An injury has forced TJ Grant to pull out of his UFC 164 bout against lightweight champion Benson Henderson and Anthony Pettis will now challenge Henderson for the title in the main event of UFC 164.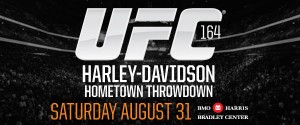 John Morgan of MMAJunkie.com reported the news on Friday night and UFC President Dana White has confirmed the fight change on Twitter.
The bout between Henderson and Pettis will be a rematch of their 2010 bout which Pettis won by unanimous decision to become the last WEC lightweight champion at the final WEC event. Since that fight, Henderson (19-2) has not been defeated and became the UFC lightweight champion last year when he defeated Frankie Edgar. His most recent title defense came at UFC on FOX 7 in April as he defeated Gilbert Melendez by split decision.
Pettis (16-2) was scheduled to get a UFC title shot in 2011 after entering the UFC, but that title fight did not take place. After winning his third straight fight at the beginning of this year, he decided to move down to the featherweight division and challenge Jose Aldo for the title. However, an injury forced him to pull out of the fight and he will now get his shot at the UFC lightweight title.
UFC 164: Henderson vs. Pettis II takes place on August 31st from the BMO Harris Bradley Center in Milwaukee and the current fight card is below.
Benson Henderson (19-2) vs. Anthony Pettis (16-2) – Lightweight Title bout
Josh Barnett (32-6) vs. Frank Mir (16-7)
Chad Mendes (14-1) vs. Clay Guida (30-13)
Erik Koch (13-2) vs. Dustin Poirier (13-3)
Brandon Vera (12-6, 1NC) vs. Ben Rothwell (32-9)
Soa Palelei (18-3) vs. Nikita Krylov (14-0)
Jamie Varner (21-7-1, 2NC) vs. Gleison Tibau (27-9)
Louis Gaudinot (6-2) vs. Tim Elliot (9-3-1)
Chico Camus (12-4) vs. Kyung Ho Kang (11-7)
Derek Brunson (10-2) vs. Yoel Romero (5-1)
Jared Hamman (13-5) vs. Magnus Cedenblad (10-4)
Pascal Krauss (11-1) vs. Hyun Gyu Lim (11-3-1)