It was announced on Friday night that TJ Grant was out of the UFC 164 main event against lightweight champion Benson Henderson and former WEC champion Anthony Pettis would be stepping in for Grant.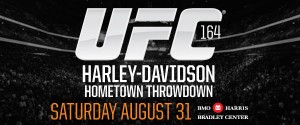 UFC President Dana White tweeted about the change after a story was posted on MMAJunkie.com and said the fight between Henderson and Pettis is a "sick fight."
Once the announcement was made about Grant being out, the Canadian fighter went to Twitter to explain that the reason he pulled out of the fight was due to a concussion.
Thanks everyone for your concerns. I am healing from a concussion I suffered in BJJ of all things. I hope to be back training very soon

— TJ Grant (@TJ_Grant) July 13, 2013
Before and after Grant revealed the injury, many mixed martial arts fans had conspiracy theories about the injury. Many fans on social media believed that the UFC had paid Grant to fall out of the fight. However, Grant responded to these people on Twitter to say that the UFC or White did not pay him any money to step out of the fight and let Pettis get the title fight.
Sorry all you conspiracy theorists. @danawhite / @ufc did not and could not pay me any amount of money to step aside.

— TJ Grant (@TJ_Grant) July 13, 2013
Grant did not reveal how long he will need to recover from the concussion. White or the UFC has not said what the plans are for Grant but it would appear likely that he will get the winner of Henderson/Pettis either late this year or early in 2014.