This weekends UFC 162 FX Prelim shows ratings are in and they bounced back nicely from UFC 161's sub 1-million viewership number.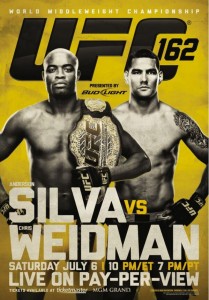 According to Nielsen sources, the UFC 162 FX Prelim jumped back up to its normal 1.4 million total viewers.  UFC 156 still remains as the top getter with 1.897 million total back a few months ago.
When it came to the nights competition on local and national television the UFC struggled against Fox Saturday Baseball (which lead the pack), a series of burn-off shows including Zero hour, 666 Park Avenue and a rebroadcast of America Ninja Warrior. All these shows pulled overall viewership totals of well over 1.8 million viewers and 18-49 demographic ratings of well above 0.5.
As always stay with TheMMAReport.com for all the latest ratings news, analysis and don't forget to check the continually updating chart below for UFC on FX preliminary ratings.