In a battle of strikers, Daron Cruickshank was able to do enough in two of the three judges eyes as he defeated Yves Edwards by split decision on the preliminary card of UFC on FOX 8.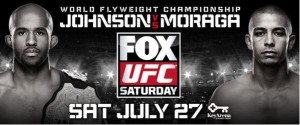 The bout opened with Cruickshank attacking with kicks and Edwards threw a head kick to counter what Cruickshank was doing.
They would strike with each other with Edwards controlling the cage and countering the strikes of Cruickshank. As the first round was coming to a conclusion, Cruickshank threw a spinning back kick that barely missed and the fight moved into the second round.
In the second round, Edwards continued to control the cage and was cutting off Cruickshank as he circled around the cage. Cruickshank continued to throw head kicks and Edwards attempted to counter the kicks with a straight punch.
Edwards was able to land a head kick of his own and followed it up with a straight right hand. With ten seconds left in the round, Cruickshank was able to land a spinning back fist and Edwards landed a kick as the round came to an end and the fight moves into the final round.
In the final round, they continued to strike with each other as they did in the previous rounds. Cruickshank contined to look for a head kick and Edwards countered with low kicks. In the final 30 seconds of the round, Cruickshank went for a takedown which was unsuccessful and the fight will be decided by the judges scorecards.
Two of the three judges scored the fight 30-27 for Cruickshank (13-3) and he has won three of his four fights in the UFC. Edwards (42-20-1) has dropped back to back fights and he was defeated by split decision in both fights.
UFC on FOX 8 Results:
Daron Cruickshank def. Yves Edwards via split decision (30-27, 27-30, 30-27)
Ed Herman def. Trevor Smith via split decision (30-27, 27-30, 29-28)
Germaine de Randamie def. Julie Kedzie via split decision (30-27, 28-29, 29-28)
Justin Salas def. Aaron Riley via split decision (29-28, 28-29, 29-28)
Yaotzin Meza def. John Albert via submission (rear-naked choke) – Round 2, 2:49