Melvin Guillard snapped a two fight losing streak with a second round knockout victory over Mac Danzig on the UFC on FOX 8 preliminary card.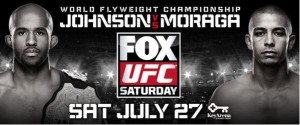 The bout opened with Guillard throwing a right hand and Danzig countering with a low kick. Danzig was able to close the distance and clinched with Guillard against the cage.
Guillard would separate from Danzig and returned the fight to the center of the cage. He landed a right hand that forced Danzig to back up. They continued to strike and Guillard landed several left jabs. Danzig attempted to get the fight to the ground but he was unable to get the takedown. With 30 seconds left in the round, Guillard landed a two punch combination but Danzig came straight forward and the fight would move into the second round.
At the beginning of the second round, Danzig looked to take the fight to the ground but Guillard stopped the attempt. They would continue to strike with each other with Guillard landing the more significant strikes. Guillard would land a left jab that would drop Danzig and he finished the fight with strikes on the ground.
UFC on FOX 8 Results:
Melvin Guillard def. Mac Danzig via TKO (strikes) – Round 2, 2:47
Daron Cruickshank def. Yves Edwards via split decision (30-27, 27-30, 30-27)
Ed Herman def. Trevor Smith via split decision (30-27, 27-30, 29-28)
Germaine de Randamie def. Julie Kedzie via split decision (30-27, 28-29, 29-28)
Justin Salas def. Aaron Riley via split decision (29-28, 28-29, 29-28)
Yaotzin Meza def. John Albert via submission (rear-naked choke) – Round 2, 2:49