The opening fight of the UFC on FOX 8 preliminary card was a catchweight bout as Yaotzin Meza scored his first UFC victory as he defeated John Albert by submission in the second round.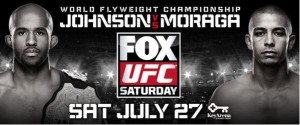 The bout opened with Albert being the aggressor and after both fighters exchanged leg kicks, Meza took the fight to the ground. Both fighters looked for takedowns from top and bottom position.
Albert was able to get side control on Meza and began to work for an armbar submission. Meza defended the submission attempt by rolling over but Albert continued to work for the submission. Meza would be able to escape the armbar submission and he worked his ground game from top position.
While on the ground, Meza was able to lock in a guillotine choke that appeared to be tight. Albert was able to defend the attempt and make it out of the round and this is only the third time in his career that his fights have lasted longer than one round.
As the start of the second round, Albert immediately looked for a guillotine choke and took the fight to the ground. He switched from the guilltoine choke to a triangle choke but Meza was able to escape the submission. Once he escaped, he was able to get the back of Albert and began to work his submission.
He initially went for a rear-naked choke and then used ground strikes to wear down Albert. After landing several strikes, he went for another rear-naked choke and was able to force Albert to submit to the hold.
Meza (20-8) now has seven career wins by submission and Albert (7-5) has lost four fights in a row and will likely be released from the UFC after this fight.