Bellator MMA decided to part ways with one of their best welterweight fighters yesterday as they released Paul "Semtex" Daley.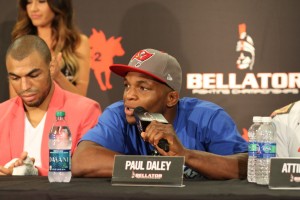 Daley was unconditionally released from Bellator which means the promotion gave up their right to match any contract offer he receives from another promotion.
The news of Daley's release was reported first by MMAFighting.com and Bellator's Director of Communication Anthony Mazzuca explained why the promotion decided to part ways.
"We recently received and reviewed the real documents in Daley's situation, which made clear that he was not in fact cleared, but was actually convicted of both assault by beating and obstructing an officer," Mazzuca said.
Daley initially signed with Bellator in June of last year after being granted his release from Strikeforce. He only appeared in the Bellator cage once which was at Bellator 72 last summer as he defeated Rudy Bears by TKO in the second round.
Bellator was planning to have him take part in the season eight welterweight tournament and meet War Machine in the opening round of the tournament. However, legal issues in the United Kingdom did not allow Daley to travel to the United States.
After being informed of his release, Daley issued a statement on his Facebook page and explained to his fans that the reason for his release is due to his visa issues.
The decision for Bellator to release Daley may have come as a surprise to MMA fans, but Daley told TheMMAReport.com that he had been requesting is release from his Bellator contract for months.
"No I was requesting my release for a few months now, as I new moving forward with the company would be difficult," Daley said.
Daley understands that he caused the situation with not being able to compete in a Bellator in the United States. However, "Semtex" feels that Bellator could have handled the situation better.
"They could have done things better, but really I caused the situation. They just dealt with it badly."
With his days with Bellator being over, Daley looks ahead to what is next in his fighting future. Could a return to the UFC be in his future? He would like to return to top mixed martial arts promotion but admitted that he has a lot of options at this point.
"I would to return to the UFC if not, then WSOF seems like an option. But I have a lot of options right now."
He hopes to return to action in September and more details on his next fight are expected to be announced in the near future.