A welterweight bout has been officially added to UFC 167 in Las Vegas as Rory MacDonald will meet Robbie Lawler.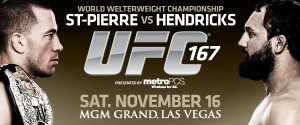 UFC officials confirmed the bout on Tuesday night after UFC President Dana White said over the weekend that he liked the fight.
UFC 167 takes place on November 16th from the MGM Grand Garden Arena and will be headlined by Georges St-Pierre defending the UFC welterweight title against Johny Hendricks.
MacDonald (15-1) has won five in a row since losing his first career bout against Carlos Condit at UFC 115. His most recent victory came at UFC on FOX 8 in July has he scored a decision victory over Jake Ellenberger.
Lawler (21-9, 1NC) has won back to back fights in the welterweight division since returning to the UFC. Both of the wins have come by TKO/KO and his most recent win also came at UFC on FOX 8 as he defeated Bobby Voelker in the second round.
The current UFC 167: St-Pierre vs. Hendricks card is below and the UFC will be announcing more fights in the coming weeks.
Georges St-Pierre (24-2) vs. Johny Hendricks (15-1)
Rory MacDonald (15-1) vs. Robbie Lawler (21-9, 1NC)