The UFC Fight Night 26 Pre-Fight Press Conference took place today and the replay video of the press conference is now available.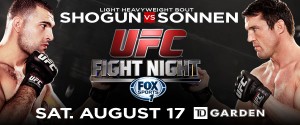 The press conference was live from Boston at the Citi Wang Theatre and featured UFC President Dana White, Mauricio "Shogun" Rua, Chael Sonnen, Alistair Overeem, Travis Browne, Urijah Faber, Iuri Alcantara, Joe Lauzon, Michael Johnson, Conor McGregor and Max Holloway.
One of the highlights from the press conference was when Chael Sonnen was asked why should fans watch on Saturday? His response was typical Chael, "Well, because the fight is on Saturday. If you try to watch on Friday, you'll be a doofus."
White and all of the fighters took questions about Saturday night's fight card and today's full press conference video is below.