Brennan Ward had the entire crowd behind him as he dispatched Justin Torrey via TKO midway through the second round and advancing to the next round of the middleweight tournament.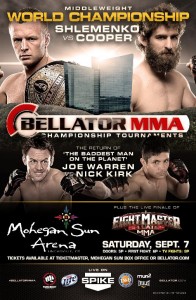 Both fighters opened up the contest swinging and Ward grabs a huge slam. Ward eventually moves Torrey over to the cage, but is unable to get much going.
Torrey eventually gains composure and is able to switch positions and landed some good strikes on Ward. As the round got past the midway point, Torrey was still on-top but not able to do much with it.
As the first round drew to a close Torrey maintained top position and eventually switched over to side control where he tried working a key-lock. Ward proved to be a gamer and defended well. The round closed with Torrey on-top and lighting him up as the bell closed.
As the second round opened Torrey immediately pushed Ward into the cage.  As the two flurried, Ward pulled Torrey down and took top-control. Ward wasted no time hammering punches and smothering Torrey.
Midway through the round Ward still had top-control and was picking Torrey up and slamming him back onto the mat. Torrey eventually got back up and both fighters immediately started exchanging again when Ward got the better of him with some shots and a take down.
As the round came to a close Ward started laying hammer fists on a cut that was under Torrey's eye. After a few unanswered blows Referee Dan Miragliotta stepped in and called a stop to the fight at 3:28 of the second round.
Ward improves to 7-1 with the win and Justin Torrey suffers his first career loss moving to 7-1.
Bellator 98 Results:
Brennan Ward def. Justin Torrey via TKO (strikes) – Round 2, 3:28
Perry Filkins def. Jeremy Kimball via SUB (rear-naked choke) – Round 3, 4:18
Derek Anderson def. Patricky Pitbull via unanimous decision (29-28, 29-28, 29-28)
Jeff Nader vs. Mike Mucitelli declared no contest (unintentional eye poke)
Josh Diekman def. Parker Porter via TKO (strikes) – Round 1, 1:12
Ryan Quinn def. Brylan Van Artsdalen via submission (arm triangle) – Round 1, 2:34
Matt Bessette def. Nick Piedmont via TKO (strikes) Round 1, 1:41
Rico Disciullo def. Glenn Allair via KO (punch) – Round 1, 1:21