In the battle of grapplers, Jason Butcher escaped some late submission trouble in the first round and finished Giva Santana midway through the second round via TKO to advance to the next round of the middleweight tourney.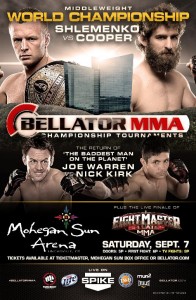 Both fighters open up the fight with flurry of strikes with Butcher getting the better of the exchange. As the two clinched up Santana dropped for a take down and landed it. From the top positions, Santana immediately moved to side control.
Midway through the first, Santana continued to work side control and was looking for a kimura. The side control continued with little action going on as the fans grew frustrated with the lack of action.
As the round came to a close Santana sinked in a arm triangle choke and almost got the tap, but Butcher was a gamer and survived.
As the second round opened up Butcher came out more aggressive and landed several good shots on Santana. Butcher continued to push the pace and force Santana into the cage. Butcher then dropped Santana with a series of strikes and Referee Kevin MacDonald stepped in and called the fight at 1:12 via TKO in the second round.
With the victory Jason advances to the next round of the middleweight tournament and improves his record to 7-0.
Bellator 98 Results:
Jason Butcher def. Giva Santana via TKO (strikes) – Round 2, 1:12
Brennan Ward def. Justin Torrey via TKO (strikes) – Round 2, 3:28
Perry Filkins def. Jeremy Kimball via SUB (rear-naked choke) – Round 3, 4:18
Derek Anderson def. Patricky Pitbull via unanimous decision (29-28, 29-28, 29-28)
Jeff Nader vs. Mike Mucitelli declared no contest (unintentional eye poke)
Josh Diekman def. Parker Porter via TKO (strikes) – Round 1, 1:12
Ryan Quinn def. Brylan Van Artsdalen via submission (arm triangle) – Round 1, 2:34
Matt Bessette def. Nick Piedmont via TKO (strikes) Round 1, 1:41
Rico Disciullo def. Glenn Allair via KO (punch) – Round 1, 1:21