Mikkel Parlo used his take downs, ground game and aggressiveness to score the unanimous decision upset victory over Brian Rogers, advancing into the next round of the middleweight tournament.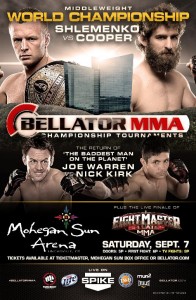 The two open the contest with some quick leg kicks. Rogers stumbled a bit on one of them but maintained composure. Rogers then slipped again and was pushed into the cage by Parlo. Parlo eventually moved away allowing Rogers to get back into the center of the cage.
Once back in the center Rogers started to throw some heavy leather connecting several times putting Parlo to his knees. Parlo maintained composure though, got up and started trading with Rogers again.
As the round came to a close both fighters continued to trade punches with Rogers getting the better of the final exchanges and Parlo landing a very late knee.
The second round opened up much the same as the first round with some glancing blows on both sides. Rogers landed a very thick and heavy leg kick that forced Parlo to grab for a clinch which was quickly broken up by Rogers uppercuts. The pace continued with the guys grabbing for the clinch again, but this time, Parlo grabbing a take down.
With Parlo in half-guard, he continued to stay active on the ground frustrating Rogers with small hammer fists for the rest of the round.
As the third round opened Rogers tried pushing the pace early with a flurry of punches and a good flying knee. Parlo did a great job of weathering the storm and eventually landed a huge take down.
As the final round wore on we got much of the same as the second with Parlo on-top and smothering Rogers with hammer fists.  Eventually, Parlo made a mistake and Rogers was able to sneak up to his feet. Parlo immediately grabbed the clinch and pushed Rogers up against the cage again.
Parlo continued to work and got Rogers to the ground again where he landed a series of solid punches and almost finished Rogers when the bell rang for the final round.
The judges then awarded the contest to Mikkel Parlo who now improves to 10-1 in his career and moves into the next round of the middleweight tournament.
Bellator 98 Results:
Mikkel Parlo def. Brian Rogers via unanimous decision (30-26, 30-26, 30-27)
Jason Butcher def. Giva Santana via TKO (strikes) – Round 2, 1:12
Brennan Ward def. Justin Torrey via TKO (strikes) – Round 2, 3:28
Perry Filkins def. Jeremy Kimball via SUB (rear-naked choke) – Round 3, 4:18
Derek Anderson def. Patricky Pitbull via unanimous decision (29-28, 29-28, 29-28)
Jeff Nader vs. Mike Mucitelli declared no contest (unintentional eye poke)
Josh Diekman def. Parker Porter via TKO (strikes) – Round 1, 1:12
Ryan Quinn def. Brylan Van Artsdalen via submission (arm triangle) – Round 1, 2:34
Matt Bessette def. Nick Piedmont via TKO (strikes) Round 1, 1:41
Rico Disciullo def. Glenn Allair via KO (punch) – Round 1, 1:21