Late replacement Derek Anderson struggled early on against the Bellator veteran Patricky Pitbull, but he was able to weather the storm and push Patricky Pitbull and steal a unanimous decision victory to open Bellator 98 from Mohegan Sun.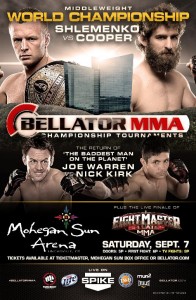 The contest started with Pitbull walking right across the cage and knocking down Anderson with a quick overhand.  Anderson got right back up though and the pace quickened even more. Pitbull then dropped Anderson again with another slick combo, but Anderson immediately tied him up this time.
As round one wore on the pace slowed down a bit and Anderson tried using his kicks to separate and keep distance. After minute of no engagement, Anderson started taunting Pitbull, which Pitbull didn't like that and paid him back by taking him down and securing full-mount. Anderson tried his best to buck Pitbull off, but Pitbull grabbed an arm-triangle. Eventually Anderson got out after slamming Pitbull to the mat and grabbing full-guard and thats how the first round ended.
To start the second round Anderson came in with a huge kick and a slip that pushed Pitbull on top. From there Anderson tried to get up off the cage but Pitbull slammed him right back down. As the opening minute wore on the guys started swinging wild with Pitbull getting the better of the exchanges.
As the second round wore on Anderson found himself backing Pitbull up who was clearly tiring.  Anderson continued to the push the pace and push Pitbull against the cage.  Pitbull went for another takedown attempt, but it was too sloppy and Anderson immediately pushed him off.  As the round came to a close Anderson battered Pitbull with strikes against the cage.
The final round opened with both guys exchanging some light legs kicks. Anderson continued to push the pace and get Pitbull into the cage. As the opening part of the round wore on Pitbull kept showing signs of getting tired and Anderson would immediately push him into the cage with punches.
As the final round came to a close Anderson landed a nice spinning back-kick, but wasn't able to do much with it. Both fighters continued to swing until the bell came to a close.
With the victory Derek Anderson improves to 10-0 and Patricky Pitbull with the loss moves to 10-5.
Bellator 98 Results:
Derek Anderson def. Patricky Pitbull via unanimous decision (29-28, 29-28, 29-28)
Jeff Nader vs. Mike Mucitelli declared no contest (unintentional eye poke)
Josh Diekman def. Parker Porter via TKO (strikes) – Round 1, 1:12
Ryan Quinn def. Brylan Van Artsdalen via submission (arm triangle) – Round 1, 2:34
Matt Bessette def. Nick Piedmont via TKO (strikes) Round 1, 1:41
Rico Disciullo def. Glenn Allair via KO (punch) – Round 1, 1:21