The ninth season of Bellator continues on Friday night from the Pechanga Resort and Casino in Temecula, California with Bellator 99 and the main card will air live on Spike TV beginning at 9 p.m. ET/7 p.m. PT.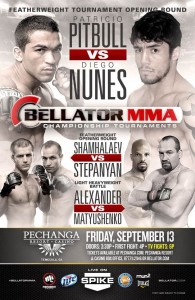 The main card will feature the opening round of the season nine featherweight tournament and the winner of this tournament will secure a shot at the Bellator featherweight title in the future.
Also on the main card will be a light heavyweight bout as two mixed martial arts veterans meet as Vladimir Matyushenko meets Houston Alexander.
TheMMAReport.com has put together pre-fight statistics about all of the fights on the main card and are available below.
Patricio Pitbull (18-2)
Pitbull is, by general consensus, the best featherweight in Bellator aside from the promotion's champion Pat Curran. This is to be taken to heart, especially when the featherweight division is arguably the deepest in Bellator. Pitbull has gone 6-2 in Bellator, his first loss being to (then future champion) Joe Warren in the Bellator Season 2 FW tournament final. The second lost of his career came in one of the closest and most difficult fights to score in MMA history. After defeating Daniel Straus in the Season 4 FW Final, Pitbull earned the right to challenge then champion Joe Warren to a rematch. Forced out with a broken hand he was replaced by Pat Curran, who won the title via brutal knock out.
After being out for nearly a year, he returned to action at Bellator 85. In the first Bellator fight ever on Spike TV, he challenged Pat Curran for the featherweight title. He lost the fight via close spilt decision. He has since faced and become the first man to finish RFA champion Jared Downing, who he defeated in the second round by TKO.
50% striking accuracy
61% TD accuracy
Never Been Finished
BJJ Black Belt
Season 2 FW runner up
Season 4 FW winner
6 of last 7 fights have made it to the 3rd round
7 career subs
Last sub win was at Bellator 15 in 2010
Diego Nunes (18-4)
Nunes has been a main stay in the Zuffa featherweight scene since late 2008. He started his pro MMA career going 11-0, all finishes. In his Zuffa career he had a record of 7-4, all decisions. Despite a lack of finishes, the WEC crossover was a consistent top 10 contender in the promotion. Getting wins over names like former WEC champ Mike Brown, Manny Gamburyan, and Bart Palaszewski. Though this run was a figurative roller coaster, maintaining a win loss pattern.
In his last fight against Nik Lentz, he lost a clear decision, fighting off his back against the superior wrestler. Some time after this a number a surprising cuts came from up stairs in Zuffa headquarters. Fans were shocked to see names like Jacob Volkmann, Paul Sass, and Terry Etim had been cut. By far the most surprising of these names was none other than Nunes. Bellator wasted little to no time signing the talented young fighter.
Never Been Finished
BJJ Purple Belt
WEC/UFC Vet
2-3 in last 5 fights
4-1 in WEC
3-3 in UFC
FOTN winner (once)
Vladimir Matyushenko (26-7)
"The Janitor" is a former title contender for the UFC, possessing two runs in the promotion; going 3-2 & 4-3. Another recent cut of Zuffa's, the 42 year old Belarusian's release didn't come as a surprise to most fans; having dropped back to back fights to Ryan Badar and Alexander Gustafsson.
Bellator Debut
42 years old
UFC title contender (UFC 33 vs Tito Ortiz)
Won 10 of 12 career decisions
Last 5 fight haven't got out of the 1st round
Houston Alexander (15-9-2)
Alexander went from unknown prospect right into the mix of the best 205ers in the world overnight; after brutally knocking out "The Dean of Mean" Keith Jardine in less than a minute. He won his next bout in similar fashion until hitting a wall disguised as Thiago Silva's fists. Losing his next 3 UFC fights, he was released, having since gone 6-4-1 outside the UFC.
Bellator Debut
10 KO wins
5 KO loses
2 fight win streak
Justin Wilcox (11-5-1)
"The Silverback" is a former NCAA Division I wrestler and bodybuilder. His big break came in the recently deceased promotion, Strikeforce. Under the Strikeforce banner he amassed a record of 5-3-1. He is 0-2-1 in his last three and most recently dropping a split decision to UFC fighter Jorge Masvidal. He will be a late replacement for Shahbulat Shamhalaev in this tournament.
Bellator Debut
10 of 17 fights have ended in decision
8 of 11 wins by decision
Coming off back to back loses
Akop Stepanyan (13-5)
Stepanyan lost his first 3 pro fights, only to win his next 12 in a row before signing with Bellator. This will be his 3rd tournament, losing in the quarterfinals to Wagney Fabiano and Marlon Sandro. In his most recent fight, he displayed wild and entertaining striking; earning a TKO win over TUF alumni Chris Saunders, giving him his first win in Bellator.
Never Been Knocked Out
Taekwondo Black Belt
Last 5 wins by stoppage (4 KOs)
Season 7 & 8 quarterfinalist
Dez Green (9-1)
Green burst onto the MMA scene at the end of 2011, winning his two amateur MMA fights in a total time of less that 1:30. Making his pro debut only 4 months after his first fight. Over the next year he amassed 6 wins in 7 months; before losing to Rory McDonell, in his second fight that month. Since, he has put 2 wins together in 2013, including a win over UFC vet Henry Martinez. He had been a lightweight fighter most of his career and this will be his second career fight at featherweight.
Bellator Debut
Won 6 fights in 1 year
6 of 8 wins by dec
Only career lose by submission
Fabricio Guerreiro (17-2)
Guerreiro was highly touted in his Bellator debut, in the quarterfinals of the season 8 tournament. Coming into the promotion with at record of 17-1 with 15 stoppages, he was regarded as the dark horse of the tourney by many. Unfortunately, he ran into Russian prospect Frodo Khasbulaev; getting submitted in the second round. He will be looking for his first Bellator win at Bellator 99.
Season 8 quarterfinalist
12 career subs
9 wins in the first round
Joe Taimanglo (18-4-1)
Guam native Taimanlgo has been a professional MMA fighter since 2004. Compiling a record of 17-4-1, but didn't get his big break till a few months ago when he defeated Ronnie Rogers at Bellator 94. Now with a spot in the season 9 tournament, the submission specialist is hoping for a shot at a major title.
1-0 in Bellator
9 fight win streak
11 career subs
All loses by stoppage (2 sub/2 KO)
Andrew Fisher (12-4-1)
When you think of UK fighters, names like Brad Pickett and Michael Bisping comes to mind but a new breed of UK fighters have started to rise. Guys like Paul Sass, Terry Etim, and Martin Stapleton have earned much of the public eye. One you may not know, that certainly deserves recognition is Fisher. He is a major force on the UK MMA scene, only losing fights to other top prospects (Sass/Stapleton). Since moving to featherweight he is undefeated.
Bellator Debut
6-0-1 in last 7 fights
Has only been to a decision twice