The season nine Bellator featherweight tournament will begin tomorrow night at Bellator 99 at Pechanga Resort and Casino in Temecula, California and Dez "The Predator" Green will meet Fabricio Guerreiro in one of the opening round bouts.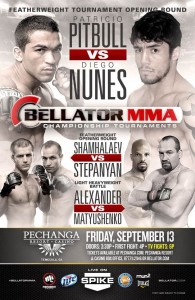 Green (9-1) was signed by Bellator earlier this year and has won his last three fights including a second round TKO win over former UFC fighter Henry Martinez.
Prior to signing with Bellator, Green was working part-time at Wal-Mart as a cashier and decided to leave the job to concentrate full time on MMA once he signed on with Bellator to compete in this featherweight tournament.
"At Wal-Mart, I use to cashier there and cause I just moved to Ithaca from Rochester," Green told TheMMAReport.com. "I have a degree in teaching and coaching but I wasn't really trying to work in my degree field because I mainly wanted to dedicate much of my time to mixed martial arts. At the same time, starting off doesn't pay as well so you need a part time gig to live, eat and pay rent. I was working cashier there, working just enough hours to get by on my rent and my food."
Before his fight with Martinez in May at New England Fights 7, he didn't know if Bellator was looking at him but knew his manager had a good connection with them. His manager had told him that he needed to finish Martinez to get a call from a higher tier promotion.
"I knew my manager had a good connection with them and pretty much he told me that if I keep winning, he would take care of everything else. Everything would take care of itself and you will get the call you need as long as you win. After my last fight, I fought this pretty big name guy named Martinez, a UFC vet and I finished him. I guess it was the extra push I needed to get that call."
When you look at Green's record, seven of his nine victories have come by decision and both of his stoppage victories have come by TKO in the second round. He wants to be able to finish his opponents in all of his fight, but he cited that most of the fights in his career this far have been short notice fights that he has winning them due to his wrestling and athleticism.
"A lot of my fights, I was taking on one week, two week notices, three times in one month a couple of times. I just graduated in 2012 and I just moved up and started training. I have not been training a full year in MMA yet. I a lot of the fights I was taking were on short notice and I was winning them just mostly off of my wrestling and my athleticism. The last fight I had was the longest I have had in between fights and was actually my best performance."
His opponent tomorrow night is known for his submission as Guerreiro (17-2) has twelve career wins by submission. While he understands that his opponent is excellent in jiu-jitsu, he will take the fight to the ground if he wants to.
"I know that Fabricio is really known for his jiu-jitsu and everything. My coaches have done a good job of bringing in people during the camp to help me to prepare for that and I am fully prepared for his jiu-itsu. I am a wrestler first. If I want to take him down to the ground, I will take him down to the ground and I have enough knowledge on the sport now and enough knowledge on jiu-jitsu now to hold my own and stay in good positions. He is definitely better jiu-jitsu, but I am better ground game and controlling. If fighting off his back is his best attribute, I feel like I can neutralized that with my attributes of my wrestling, speed and quickness."
Out of his ten professional fights, Green has only had one other fight at featherweight and he had to change things up in his nutrition for this fight including cutting out fast food.
"I am use to eating whatever I want, drinking whatever I want and not worrying about the nutritional value of my food. Since I'm going down to 45, I have had to tighten up my diet and I use to eat fast food every day, two to three times a day. During this training camp, I have maybe hit fast food up maybe once or twice in the past eight weeks."
Green is expecting to finish Guerreiro tomorrow night by TKO and plans to be making a stop at McDonald's to celebrate his victory.
"After this fight, first thing I am doing is going to McDonald's and getting a McDouble and add bacon."