Fabricio Guerreiro claimed his spot in the season nine featherweight tournament semifinal with a unanimous decision victory over Des Green at Bellator 99 on Friday night.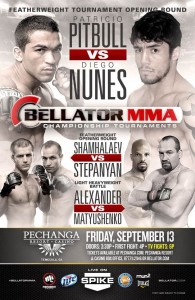 The opening round would be on the feet for a majority of the round with Guerreiro having a slight advantage int he striking department. Both fighters were able to get a takedown during the round as Guerreiro used a leg trip to get the fight to the ground and Green scored a takedown in the final ten seconds of the round.
As the second round opened, Green attempted to get the fight to the ground but Guerreiro was able to get the fight to the ground. Green worked back to his feet but Guerreiro had his back on the feet. Green was able to separate from him with two minutes left in the round. After Guerreiro landed a kick to the groin, Green would get the fight to the ground but once again it was late in the round.
Green did not waste anytime looking for a takedown in the third round and the fighters would clinch against the fence. Green would land multiple strikes but he was unable to get in a dominant position and the fighters would separate from each other. They would strike with each other until the end of the round and both fighters were unsuccessful in getting the fight back to the ground.
At the end of the fight, all three judges scored the fight for Guerreiro (18-2, 1NC) and he will face the winner of the Patricio Pitbull/Diego Nunes bout.
Bellator 99 Results:
Fabricio Guerreiro def. Des Green via unanimous decision (29-28, 29-28, 29-28)
Vladimir Matyushenko def. Houston Alexander via unanimous decision (29-28, 30-27, 30-27)
Justin Wilcox def. Akop Stepanyan via submission (rear-naked choke) – Round 2, 2:20
Joe Taimanglo def. Andrew Fisher via unanimous decision (29-28, 30-27, 30-27)
Blagoi Ivanov def. Manny Lara via submission (front choke) – Round 1, 1:17
Goiti Yamauchi def. Musa Toliver via submission (rear-naked choke) – Round 1, 1:01
Gavin Sterritt def. Andy Murad via split decision (29-28, 28-29, 29-28)
Hector Ramirez def. Savio Kosic via unanimous decision (30-27, 30-27, 30-27)