The opening bout of the Bellator 99 main card on Spike TV was an opening round bout in the season nine featherweight tournament as Joe Taimanglo advanced to the semifinals with a decision victory over Andrew Fisher.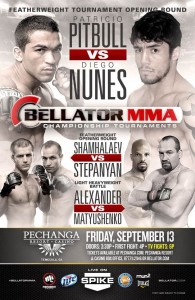 In the opening round, Taimanglo opened by throwing leg kicks and Fisher took the fight to the ground. Taimanglo was able to get back to his feet and he looked for a guillotine choke from the feet.
Fisher would escape the submission attempt and the fight would stop for a moment due to an accidental head butt by Taimanglo. They would strike with each other until the end of the round and the fight moved into the second round.
They continued to have their striking battle in the second round with Taimanglo having more success with landing his punches and leg kicks. Fisher struggled to get his punches through the guard of Taimanglo and attempted to get the fight to the ground in the final ten seconds of the round. He was unable to get the takedown and the fight move to the final round.
The final round was a carbon copy of the second round with the entire fight on the feet. Fisher struggled to land any significant strikes and Taimanglo landed his jab and kicks throughout the round. The fight would end up going the distance and Taimanglo won the fight on all three judges scorecards.
Taimanglo (19-4-1) will now wait to see who he faces in the semifinal as he will meet the winner of the Akop Stepanyan/Justin Wilcox bout.
Bellator 99 Results:
Joe Taimanglo def. Andrew Fisher via unanimous decision (29-28, 30-27, 30-27)
Blagoi Ivanov def. Manny Lara via submission (front choke) – Round 1, 1:17
Goiti Yamauchi def. Musa Toliver via submission (rear-naked choke) – Round 1, 1:01
Gavin Sterritt def. Andy Murad via split decision (29-28, 28-29, 29-28)
Hector Ramirez def. Savio Kosic via unanimous decision (30-27, 30-27, 30-27)