Justin Wilcox was placed into the season nine tournament featherweight tournament seven days ago and scored a come from behind victory at Bellator 99 as he defeated Akop Stepanyan in the second round by submission.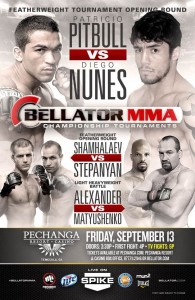 In the opening five minutes, Stepanyan was able to use his leg kicks to score in the round and Wilcox struggled to get the fight to the ground, is where he likes to take the fight. Throughout the round, Stepanyan was able to time his leg and body kicks that did not allow Wilcox to take the fight to the ground.
Stepanyan continued to attack the lead leg of Wilcox at the start of the round and he was having a tough time standing on both feet. Stepanyan would land a spinning head kick and opened up a cut on the top of Wilcox's head. Wilcox would end up taking the fight to the ground and Stepanyan attempted to hold onto him and get the referee to stand them up.
However, Wilcox was able to pass on his position and achieved the back of his opponent and immediately looked for the rear-naked choke. Stepanyan attempted to defend the submission attempt but he could not get out of the hold and the referee stopped the fight when Stepanyan went out.
Wilcox (12-5) advances to the semifinals of the featherweight tournament and will meet Joe Taimanglo.
Bellator 99 Results:
Justin Wilcox def. Akop Stepanyan via submission (rear-naked choke) – Round 2, 2:20
Joe Taimanglo def. Andrew Fisher via unanimous decision (29-28, 30-27, 30-27)
Blagoi Ivanov def. Manny Lara via submission (front choke) – Round 1, 1:17
Goiti Yamauchi def. Musa Toliver via submission (rear-naked choke) – Round 1, 1:01
Gavin Sterritt def. Andy Murad via split decision (29-28, 28-29, 29-28)
Hector Ramirez def. Savio Kosic via unanimous decision (30-27, 30-27, 30-27)