The UFC Fight Night 28 bonuses went to main card fighters Glover Teixeira, Piotr Hallmann, Rafael Natal and Tor Troeng.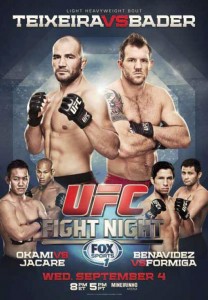 UFC President Dana White announced the bonuses on Twitter following the event and each fighter earned a bonus of $50,000.
UFC Fight Night 28 took place from the Mineirinho Arena in Belo Horizonte, Minas Gerais, Brazil and the main card was shown live on Fox Sports 1.
Teixeira won the knockout of the night bonus for his first round victory over Ryan Bader in the main event of tonight's card. The fight was stopped at the 2:55 mark of the opening round by referee Herb Dean after Teixeira dropped Bader with a right hand and landed several strikes on the ground. This is the second straight fight that Teixeira has won a fight night bonus and a title shot is likely next for him.
The submission of the night went to Hallmann as he defeated Francisco Trinaldo in the second round by kimura submission. After losing the first round, Hallmann was able to get the fight to the ground and get the submission. The victory was his tenth straight win and his sixth career win by submission.
Natal and Troeng won the fight of the night bonus for their three round middleweight battle. Natal appeared close to finishing the fight on several occasions but Troeng showed his toughness and ability to recover from bad positions. Prior to tonight, neither fighter had won a fight night bonus and this is the third straight win for Natal.
All of the fighters that won a bonus will receive their bonus check from the UFC once the organization gets word from the commission that all of the fighters passed their post fight drug test.