Following the conclusion of the UFC Fight Night 28 main card on Fox Sports 1, the UFC held the post fight press conference from the Mineirinho Arena in Belo Horizonte, Minas Gerais, Brazil.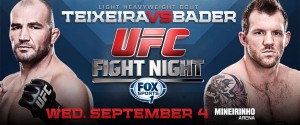 The press conference was attended by UFC executive Marshall Zelaznik, Glover Teixeira, Ryan Bader, Ronaldo Souza, Joseph Benavidez, Rafael Natal and Ali Bagautinov.
The complete UFC Fight Night 28 Post Fight Press Conference is below.