Glover Teixeira made his claim as the next title challenger in the UFC light heavyweight division as he stopped Ryan Bader by TKO in the first round in the main event of UFC Fight Night 28.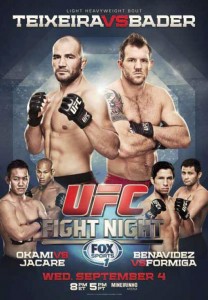 Bader opened up the fight by looking for a takedown but ended up going for his power guillotine choke. Teixeira stoppage the submission attempt and landed a couple of punches.
The fight moved back to the feet where Bader continued his success with his striking. He landed a combination against the fence but Teixeira countered with a right hand that connected and dropped Bader.
Teixeira (22-2) would finish the fight on the ground with strikes and he has now won 20 straight fights with fifth of those wins coming in the UFC.
UFC Fight Night 28 Results:
Glover Teixeira def. Ryan Bader via TKO (strikes) – Round 1, 2:55
Ronaldo Souza def. Yushin Okami via TKO (strikes) – Round 1, 2:47
Joseph Benavidez def. Jussier Formiga via TKO (strikes) – Round 1, 3:07
Piotr Hallmann def. Francisco Trinaldo via submission (kimura) – Round 2, 3:50
Rafael Natal def. Tor Troeng via unanimous decision (30-27, 30-27, 29-28)
Ali Bagautinov def. Marcos Vinicius via TKO (strikes) – Round 3, 3:28
Kevin Souza def. Felipe Arantes via split decision (29-28, 28-29, 29-28)
Lucas Martins def. Ramiro Hernandez via submission (rear-naked choke) – Round 1, 1:10
Elias Silverio def. Joao Zeferino via unanimous decision (29-28, 30-27, 30-27)
Ivan Jorge def. Keith Wisniewski via unanimous decision (29-28, 30-27, 29-28)
Sean Spencer def. Yuri Villefort via split decision (30-27, 28-29, 29-28)