Elias Silverio stepped up on short notice to get his opportunity in the UFC and he defeated Joao Zeferino to remain undefeated in his career.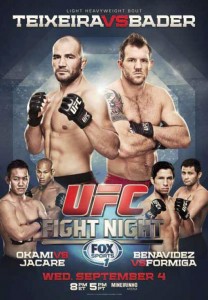 Zeferino wasted little time in the opening round looking for a takedown and would not be able to get the takedown as referee Leon Roberts separated the fighters after a lack of action. After the restart, Zeferino once again looked for a takedown and Silverio would land a knee to the groin that briefly stopped the action.
Silverio was able to get the fight to the ground in the final minute but elected to stand up and force Zeferino off his back. Before the round came to a conclusion, Zeferino landed a head kick and the fight moved into the second round.
The fighters continued their clinching battle in the second round and Zeferino attempted to get the fight to the ground. As he looked for a takedown, Silverio landed short elbows before Roberts would separate them. Silverio landed a right hand that stunned Zeferino and the fight went to the ground with Silverio in top position. Once again, Roberts separated the fighters due to lack of action and Zeferino was able to take the fight to the ground. Silverio would get back to his feet and they grappled against the fence until the round ended.
In the final round, the actual would go to the ground and Silverio would have top position. While on the ground and Silverio standing up, Zeferino landed an illegal up kick and the fight was paused by the Roberts. The fight would continue and briefly went back to the ground. They would get back to a standing position and Silverio initiated the clinch against the fence. Silverio landed a combination in the final minute of the fight but he could not get the finish and the third straight fight would be decided by the judges scorecards.
All three judges would agree on the winner as Silverio (9-0) won 29-28, 30-27 and 30-27. He remain undefeated in his career and Zeferino (13-6) has now drop both of his fights in the UFC.
UFC Fight Night 28 Results:
Elias Silverio def. Joao Zeferino via unanimous decision (29-28, 30-27, 30-27)
Ivan Jorge def. Keith Wisniewski via unanimous decision (29-28, 30-27, 29-28)
Sean Spencer def. Yuri Villefort via split decision (30-27, 28-29, 29-28)