The second bout of the UFC Fight Night 28 preliminary card was a welterweight bout as Ivan Jorge defeated Keith Wisniewski by unanimous decision.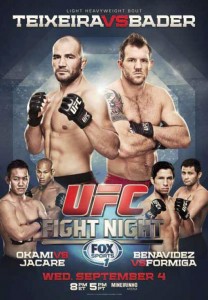 In the opening five minutes of the fight, Jorge was the aggressor in the first half of the round but appeared to wear down as the round hit the three minute mark. After weathering the early storm by Jorge, Wisniewski would land multiple knees in the thai clinch that appeared to stun Jorge on several occasions.
After the first round was on the feet for the entire time, Jorge looked for a takedown in the opening minute of the second round. Jorge would not be able to get the takedown and the fighters were eventually separated by referee Mario Yamasaki. After being separated, Wisniewski continued to get the muay-thai clinch and land knees. Jorge attempted to limit the offense of Wisniewski by looking for a takedown, but he was unable to get the fight to the ground before the round ended.
Wisniewski continued to control the bout in the opening half of the final round before Jorge started to land strikes on the inside with two minutes left in the round. Wisniewski struggled to stop the knees of Jorge and Yamasaki would end up separating the fighters after a lack of action with one minute left. The fight would end with both fighters gassed and the judges would decide the winner.
All three judges scored the fight for Jorge (25-3) with one of the judges giving all three round to him. Wisniewski (28-15-1) has now dropped three straight fights and could be released from the UFC following this defeat.
UFC Fight Night 28 Results:
Ivan Jorge def. Keith Wisniewski via unanimous decision (29-28, 30-27, 29-28)
Sean Spencer def. Yuri Villefort via split decision (30-27, 28-29, 29-28)