The opening preliminary bout of UFC Fight Night 28 was a welterweight bout as Sean Spencer secured his first UFC victory as he defeated Yuri Villefort by split decision.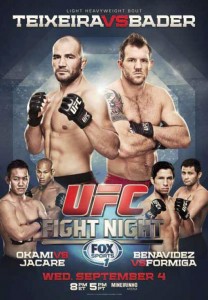 The first round was primarily a stand up battle with Villefort landing legs kicks to the lead leg of Spencer throughout the round. Spencer was able to score with his right hand throughout the round and Villefort attempted to take the fight to the ground in the final thirty second of the round. However, Spencer was able to stop the attempt and the fight moved into the second round.
As the second round opened, Villefort immediately took the fight to the ground. Spencer was able to limit the damage on the ground and work his way back to his feet. Just like the opening round, the fight would be competed on the feet with Villefort continuing to land to the lead leg of Spencer. At the conclusion of the round, Spencer's corner told him to go out there and take the final round if he wanted to win the fight.
In the final round, the fighters began to slow down after a high pace and input in the first and second rounds. Spencer showed more urgency during the round as he appeared to have more gas left in the tank. In the final minute of the fight, Spencer started to up his output and landed multiple strikes as the final bell sounded.
Two of the three judges scoring the fight scored it for Spencer (10-2) and this is his first victory inside the UFC. Villefort (6-3) has now dropped back to back fights in the UFC and this is his third straight defeat overall.
UFC Fight Night 28 Results:
Sean Spencer def. Yuri Villefort via split decision (30-27, 28-29, 29-28)