The final of the Summer Series bantamweight tournament took place at Bellator 102 and Rafael Silva defeated Anthony Leone by unanimous decision to earn his title shot.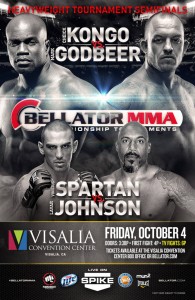 At the start of the fight, the fighters exchange strikes with Silva throwing multiple leg kicks. Leone would counter with his punches and Silva would change his level to take the fight to the ground.
He immediately looked for a choke hold but Leone was able to escape. Silva was able to keep the fight on the ground and had a brief choke attempt. Leone would escape but Silva maintained top position. While on his back, Leone went for a triangle choke against the fence but Silva would escape.
After escaping the submission attempt, Silva took the back to Leone and attempted to lock in a rear-naked choke. Leone would escape the submission and attempt to get a takedown. However, he would run out of time and the fight moved into the second round.
At the beginning of the second round, Leone came out as the aggressor and had a flurry of punches. Silva would answer the strikes including throwing a capoeira kick that would not connect. The fight would go to the ground at the half way point of the round with Silva in top position.
Silva was able to pass his position on the ground and ended up getting the back of Leone. He would he his hooks in and began to search for a rear-naked choke. Leone would be able to survive the submission attempt and make it out of the round.
In the final round, they would strike with each other for the first three minutes before Silva took the fight to the ground. Leone attempted to sweet to get back to his feet, but Silva was able to maintain the position.
However, referee John McCarthy would have the fighter stand up with one minute left in the round after a lack of action on the ground. Leone would take the fight to the ground with less than 30 seconds left but Silva would sweep and have top position until the final bell sounded.
All three judges scored the fight for Silva (21-3) and he wins the Summer Series bantamweight tournament and will be the next title challenger for Bellator champion Eduardo Dantas.
Bellator 102 Results:
Rafael Silva def. Anthony Leone via unanimous decision (30-27, 30-27, 30-27)
Mikkel Parlo def. Jason Butcher via unanimous decision (30-27, 29-28, 29-28)
Brennan Ward def. Joe Pacheco via submission (guillotine choke) – Round 2, 2:41
Scott Cleve def. Isaac De Jesus via TKO (strikes) – Round 2, 3:14
Javy Ayala def. Thiago Santos via KO (strikes) – Round 1, 5:00
Brandon Girtz def. Poppies Martinez via submission (armbar) – Round 1, 1:20
Stephen Martinez def. Bryan Travers via submission (guillotine choke) – Round 1, :56
Cain Carrizosa def. Juan Quesada via submission (triangle choke) – Round 2, 4:51
Brandon Cash def. William Richey via TKO (retirement) – Round 2, 5:00