In the first heavyweight tournament semifinal, Vinicius Spartan defeated Lavar Johnson by knockout in the opening minute of the fight to advance to the tournament final.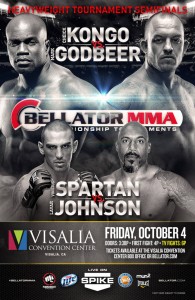 After a brief feeling out process, Spartan would land a right hand and Johnson would fall face first to the mat. Spartan would land a couple of more strikes on the ground before the referee came in to stop the fight.
Spartan (7-3) has now won two of his three fights in Bellator and both of his wins have come in the first round. He will now wait to see who wins between Cheick Kongo and Mark Godbeer in the main event of tonight's card.
Bellator 102 Results:
Vinicius Spartan def. Lavar Johnson via KO (punch) – Round 1, :23
Rafael Silva def. Anthony Leone via unanimous decision (30-27, 30-27, 30-27)
Mikkel Parlo def. Jason Butcher via unanimous decision (30-27, 29-28, 29-28)
Brennan Ward def. Joe Pacheco via submission (guillotine choke) – Round 2, 2:41
Scott Cleve def. Isaac De Jesus via TKO (strikes) – Round 2, 3:14
Javy Ayala def. Thiago Santos via KO (strikes) – Round 1, 5:00
Brandon Girtz def. Poppies Martinez via submission (armbar) – Round 1, 1:20
Stephen Martinez def. Bryan Travers via submission (guillotine choke) – Round 1, :56
Cain Carrizosa def. Juan Quesada via submission (triangle choke) – Round 2, 4:51
Brandon Cash def. William Richey via TKO (retirement) – Round 2, 5:00