Cheick Kongo made his Bellator debut on Friday night at Bellator 102 and defeated Mark Godbeer by TKO in the second round to advance to the final of the season nine heavyweight tournament.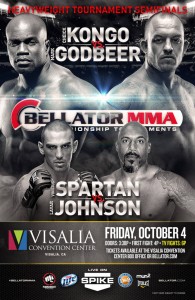 After a brief exchange to start the fight, Kongo was able to take the fight to the ground. Godbeer was able to use the cage to get back to his feet and Godbeer would land a knee to the groin that would stop the fight for a moment.
Kongo would be able to continue and Godbeer came out a the aggressor. Kongo would once again take the fight to the ground but Godbeer would be able to get back to his feet. After they separated, Godbeer landed a right hand and that caused Kongo to look for a takedown, which he would get.
Godbeer would work his way back to his feet but Kongo would hold onto him as they clinched against the fence. McCarthy would separate the fighters and Kongo would take the fight right back to the cage and clinch with Godbeer.
Once again, McCarthy would separate the fighters and warned Kongo about knees to the groin of Godbeer. As the bell sounded to end the opening round, the fighter exchanged words as the fighters walked to their respective corners.
In the second round, Kongo would get the back of Godbeer in the opening 30 seconds and landed multiple knees to the back of his legs. Kongo would begin to land knees in the clinch position against the fence that hurt Godbeer. He attempted to get away from Kongo, but he was unable as Kongo continued to land strikes and McCarthy came in to call the fight.
Kongo (19-8-2) advances to the heavyweight tournament final against Vinicius Spartan and that fight will take place later this year.
Bellator 102 Results:
Cheick Kongo def. Mark Godbeer via TKO (strikes) – Round 2, 2:04
Vinicius Spartan def. Lavar Johnson via KO (punch) – Round 1, :23
Rafael Silva def. Anthony Leone via unanimous decision (30-27, 30-27, 30-27)
Mikkel Parlo def. Jason Butcher via unanimous decision (30-27, 29-28, 29-28)
Brennan Ward def. Joe Pacheco via submission (guillotine choke) – Round 2, 2:41
Scott Cleve def. Isaac De Jesus via TKO (strikes) – Round 2, 3:14
Javy Ayala def. Thiago Santos via KO (strikes) – Round 1, 5:00
Brandon Girtz def. Poppies Martinez via submission (armbar) – Round 1, 1:20
Stephen Martinez def. Bryan Travers via submission (guillotine choke) – Round 1, :56
Cain Carrizosa def. Juan Quesada via submission (triangle choke) – Round 2, 4:51
Brandon Cash def. William Richey via TKO (retirement) – Round 2, 5:00