Bellator 102 took place on Friday night at the Visalia Conventions Center in Visalia, California and the main card on Spike TV featured tournament fights in the heavyweight, middleweight and bantamweight divisions.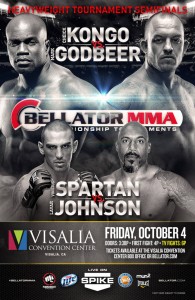 In the main event, Cheick Kongo won his Bellator debut by TKO in the second round as he defeated Mark Godbeer in one of the heavyweight tournament semifinals. He will meet Vinicius Spartan in the tournament final as he defeated Lavar Johnson in 23 seconds in the other semifinal bout.
The main card also featured Rafael Silva defeating Anthony Leone to win the Summer Series bantamweight tournament and the middleweight tournament final is set as Mikkel Parlo will meet Brennan Ward as both fighters won their semifinal bout on Friday night.
TheMMAReport.com has put together post fight statistics from the fight card and are available below.
Kongo now has 11 career wins by TKO/KO.
Godbeer has now lost two of his last three and both defeats came by TKO in the second round.
Spartan's 23 second knockout win over Johnson is the fastest victory in his career and it's his third victory in less than a minute.
Johnson has now dropped three straight fights and this is his first defeat by TKO since his professional debut in 2004 against Doug Marshall, which was a corner stoppage.
Silva become the fourth fighter to win a Bellator bantamweight tournament and he has now won 13 straight fights.
After starting his career with nine straight stoppage wins, Parlo has gone to the decision in his last three fights.
Ward picked up his second career submission against Joe Pacheco and both of this tournament wins have come by stoppage in the second round.
Former heavyweight tournament finalist Thiago Santos has dropped back to back fights in Bellator since making it to the tournament final and both defeats have come by knockout in first round.
Stephen Martinez won his sixth straight fight against Bryan Travers and all six of those wins have come by submission with five of them being in the first round.
Scott Cleve defeated Isaac DeJesus by TKO in second round for his sixth straight and five of those wins have come by knockout or submission.