Bellator 102 took place earlier this month at the Visalia Convention Center in Visalia, California and Cheick Kongo was the top earner on the card.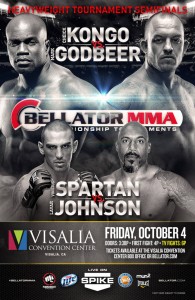 TheMMAReport.com obtained the list of disclosed salaries from the California State Athletic Commission after they were requested.
Bellator 102 featured the semifinal bouts in the season nine heavyweight and middleweight tournaments.
Kongo was the top earner on the card as he received $60,000 for his second round TKO victory over Mark Godbeer. The other top earners on the card were Vinicius Spartan, Brennan Ward, and Mikkel Parlo as they earned $30,000.
The complete Bellator 102 Salaries are below and does not include any fees such as insurance, licenses and taxes.
Cheick Kongo: $60,000 (includes $30,000 win bonus)
Mark Godbeer: $15,000
Vinicius Spartan: $30,000 (includes $15,000 win bonus)
Lavar Johnson: $15,000
Rafael Silva: $22,000 (includes $11,000 win bonus)
Anthony Leone: $11,000
Mikkel Parlo: $30,000 (includes $15,000 win bonus)
Jason Butcher: $15,000
Brennan Ward: $30,000 (includes $15,000 win bonus)
Joe Pacheco: $15,000
Scott Cleve: $6,000 (includes $3,000 win bonus)
Issac De Jesus: $2,000
Java Ayala: $4,000 (includes $2,000 win bonus)
Thiago Santos: $3,000
Brandon Girtz: $10,000 (includes $5,000 win bonus)
Poppies Martinez: $2,000
Stephen Martinez: $4,000 (includes $2,000 win bonus)
Bryan Travers: $3,000
Cain Carrizosa: $3,000 (includes $1,500 win bonus)
Juan Quesada: $1,500
Brandon Cash: $10,000 (includes $5,000 win bonus)
William Richey: $3,000