In the first featherweight tournament semifinal, Justin Wilcox was able to use his wrestling to defeat Joe Taimanglo by unanimous decision to claim his place in the tournament final.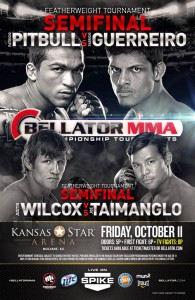 As the opening bell sounded, Taimanglo opened with a high pace by landing his punches and taking the fight to the ground. He briefly went for a submission, but Wilcox defended the submission and got back to his feet.
Wilcox would be able to get a takedown after Taimanglo was unable to connect with a right hand. While on the ground, Wilcox was able to land his ground strikes and attempted to pass his position. Wilcox was able to keep the fight on the ground until the bell rang to end the first round.
In the opening 30 seconds of the round, Taimanglo was able to land his punches and Wilcox slipped on two ocassions. However, Taimanglo decided to not follow him to the mat on either occasion and forced him to stand up.
With Taimanglo controlling the round with strikes, Wilcox was able to take the fight to the ground with three minutes left in the round. Wilcox had the half guard position and landed multiple short strikes. As Wilcox got the back of Taimanglo, the fighters moved to the feet and they separated.
Wilcox was able to immediately get the fight back to the ground, and once again was in the half guard position. He would be unable to pass the position but did land several short strikes before the round came to an end.
Wilcox opened the final round with a head kick and attempted to get the fight to the ground. Taimanglo went for a guillotine choke, but he lost the hold and Wilcox had top position. He went for an arm triangle choke but Taimanglo was able to escape but Wilcox maintained top position.
Wilcox continued to dominate the round with his ground fighting as he continued to land punches from the half guard position. Taimanglo would be unable to get off his back before the final bell sounded and the judges scorecards would decide the winner.
All three judges would score the fight for Wilcox (13-5, 1NC) and he is now 2-0 as a featherweight.
Bellator 103 Results:
Justin Wilcox def. Joe Taimanglo via unanimous decision (29-28, 30-27, 30-27)
David Rickels def. J.J. Ambrose via TKO (strikes) – Round 3, 2:37
Mikhail Zayats def. Aaron Rosa via submission (kimura) – Round 1, :47
Carlos Eduardo def. Wayman Carter via submission (rear-naked choke) – Round 1, 2:06
Remy Bussieres def. Blake Pool via unanimous decision (30-27, 29-28, 29-28)
Maurice Jackson def. Matt Uhde via TKO (doctor stoppage) – Round 1, :52
Donnie Bell def. Marcio Navarro via submission (rear-neck crank) – Round 1, 2:01
Jeimeson Saudino def. Jesse Thorton via split decision (29-28, 28-29, 29-28)
Ricky Musgrave def. Cody Carrillo via submission (kimura) – Round 1, 2:59