David Rickels returned to the Bellator cage on Friday night in his home state of Kansas as he improved to 9-2 in Bellator as he defeated J.J. Ambrose in third round by TKO.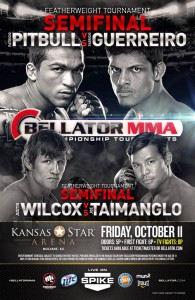 The fight opened with the fighter exchanging punches before Ambrose was able to clinch with Rickels against the cage. Rickels would be able to reverse the position and Ambrose did a level change in attempt to get the fight to the ground.
Rickels was able to stop the attempt and the fighters would separate from each other. Rickels throw a push kick and followed it up with a right hand. The fight would briefly go to the mat before Ambrose got back to his feet.
They continued to have a striking battle until Rickels used a leg trip to take the fight to the ground. Ambrose would give up his back with one minute left in the round, but Rickels could not capitalize. Ambrose would reverse the position and have top position until the end of the first round.
Rickels continued to land significant punches at the start of the second round as Ambrose threw counter strikes. The fight went to the ground at the one minute mark of the round as Ambrose had top position. While on his back, Rickels threw multiple elbows as Ambrose attempted to pass his position.
Ambrose would be unable to pass his position and referee John McCarthy would stand the fighters up after a lack of action on the mat. Once they stood up, Rickels landed a body kick that hurt Ambrose and attempted to finish the fight on the mat.
Ambrose was able to survive and reverse the position on the ground. Rickels would attempt a triangle choke off his back, but Ambrose was able to escape and the fighters stood up. Rickels landed a sweep kick that dropped Ambrose and once again, he looked for the finish. Ambrose was able to hang on and the fight moved into the third round.
In the opening 30 seconds of the third round, they began to brawl and the fight would move to the ground with Ambrose in top position. Rickels was able to get back to his feet and landed a right hand that dropped Ambrose to his knees. Rickels three several punches to the ribs of Ambrose as he had an inverted triangle on Ambrose. He was unable to get out of the position and McCarthy came in to stop the fight.
Rickels (15-2) has now won five of his last six fights and this is his ninth win in Bellator. His last two wins have come by TKO and he improves to 4-1 in 2013.
Bellator 103 Results:
David Rickels def. J.J. Ambrose via TKO (strikes) – Round 3, 2:37
Mikhail Zayats def. Aaron Rosa via submission (kimura) – Round 1, :47
Carlos Eduardo def. Wayman Carter via submission (rear-naked choke) – Round 1, 2:06
Remy Bussieres def. Blake Pool via unanimous decision (30-27, 29-28, 29-28)
Maurice Jackson def. Matt Uhde via TKO (doctor stoppage) – Round 1, :52
Donnie Bell def. Marcio Navarro via submission (rear-neck crank) – Round 1, 2:01
Jeimeson Saudino def. Jesse Thorton via split decision (29-28, 28-29, 29-28)
Ricky Musgrave def. Cody Carrillo via submission (kimura) – Round 1, 2:59