Bellator 103 took place on Friday night at the Kansas Star Arena and the main card featured Patricio Pitbull and Justin Wilcox winning by unanimous decision to advance to the featherweight tournament final.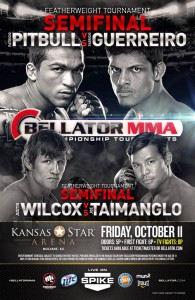 According to Nielsen sources, Bellator 103's preliminary viewership landed down to its lowest Friday night so far this season with only 539k total viewers (peak of 729k total viewers).
Comparatively, last weeks number landed at 675k total viewership number, a roughly 20% drop. It should be noted though, Bellator's usual lead-in of Cops, did not draw in the top-100 which definitely impacted the rating overall as it has been averaging over a million viewers week-to-week.
When it came to the competition, Bellator's biggest challenge for viewership and demographic numbers was MLB Baseball on TNT and WWE's Smackdown.
MLB on TBS's 13-inning game between the Cardinals and Dodgers drew 5.45 million viewers (1.5 rating), a 64% increase from last year. Smackdown on SyFy drew over 2.453 million viewers (0.7 rating).
It should also be noted that for the fourth consecutive week College Football on ESPN has dropped in viewership, and also this is the fifth consecutive week Smackdown has dropped in viewership. Now, certainly, one can argue the MLB game had something to do with it this week, but that just doesn't add up to Bellator when you see the comparative chart below of the head-to-heads.  I would lean more toward a weaker card this week, plus the MLB game.  Just my two cents though.
Stay with TheMMAReport.com for ongoing coverage of the Nielsen ratings battle between Bellator MMA and the UFC.