The opening fight of the Bellator 104 main card was a heavyweight bout as Peter Graham won his Bellator debut with a decision victory over Eric Prindle.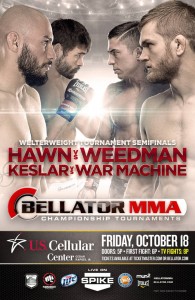 The fight opened with Prindle throwing the first strike and they exchange strikes before Prindle clinched with Graham. Prindle would not be able to mount much offense in the clinch and Graham was able to escape.
They continued to exchange strikes before Graham landed a combination that put Prindle on the ground. He attempted to finish the fight on the ground, but Prindle was able to survive but had a cut opened up on his forehead before the round came to a conclusion.
At the start of the second round, Graham landed several short elbows and appeared moments away from a victory. However, Prindle was able to survive and both fighters appeared to be worn out.
Both fighters output slowed down and Prindle attempted to get the fight to the ground. His attempt would be unsuccessful and they continued to exchange strikes in the center of the cage. Once again, Prindle looked for the takedown but once again, Graham stopped the attempt and the fight moved into the third round.
In the final round, Graham threw several leg kicks before Prindle attempted to get a takedown against the fence. The attempt was unsuccessful and Graham continued to throw leg kicks. Graham landed multiple right hands that appeared to rock Prindle, but he was unable to land a finishing streak.
With thirty seconds left in the round, Graham landed a right hand following a slip by Prindle and landed a kick as the final bell sounded. All three judges would score the fight for Graham (10-5) and this is his first MMA victory by decision.
Bellator 104 Results:
Peter Graham def. Eric Prindle via unanimous decision (30-27, 30-27, 30-26)
Paul Bradley def. Karl Amoussou via unanimous decision (29-28, 29-28, 29-28)
Paul Sass def. Rod Montoya via submission (toe hold) – Round 1, 2:01
Rob Emerson def. Jared Downing via submission (heel hook) – Round 1, 1:44
Brandon Girtz def. Mike Estus via submission (armbar) – Round 1, 4:25
Cliff Wright Jr. def. Derek Loffer via submission (armbar) – Round 2, 4:28
Andre Tieva def. Chris Lane via TKO (strikes) – Round 1, 2:14