The season nine heavyweight tournament final between Cheick Kongo and Vinicius Spartan has a date as they will meet in the opening bout of the Bellator 106 card on pay-per-view.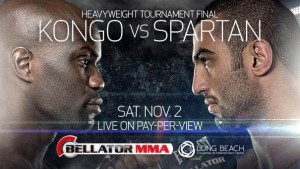 Bellator MMA announced the fight booking on Monday.
Bellator 106 will take place from the Long Beach Convention Center on November 2nd and will be headlined by Quinton "Rampage" Jackson meeting Tito Ortiz in a light heavyweight bout.
"To be able to put on a card of this caliber for our first Pay-Per-View is something really special," Bellator CEO & Chairman Bjorn Rebney said. "Kongo vs. Spartan should be absolute fireworks, and will be a fantastic way to kick off what should be a historic night on November 2nd from the Long Beach Arena."
Kongo (19-8) defeated Mark Godbeer in the semifinals by TKO in the second round to claim his spot in the tournament. Since signing with Bellator, Kongo has stated he wants to prove he is the best and this is another opportunity to prove this.
"I want to fight the best in Bellator so I can be the best," Kongo said. "When I try to do things as a competitor, I want to be the best. I messed up before because I wasn't focused like I've been from the beginning. But, now … I will be the best. It's my time. I came to Bellator for the opportunity to show the best Cheick Kongo. And that's it."
Spartan (7-3) only needed 23 seconds to defeat Lavar Johnson to advance to the tournament final. He will be looking for his second straight victory inside Bellator and is expecting a tough battle against Kongo.
"Winning a Bellator tournament today is very difficult and actually achieving victory has tremendous value," Spartan said. "I prefer it to be difficult and I know Cheick is going to be very tough–that is a motivating factor for me and my team."
The current Bellator 106: Rampage vs. Tito card is below.
Main Card: (PPV – 10 p.m. ET/7 p.m. PT)
Rampage Jackson (32-11) vs. Tito Ortiz (16-11-1)
Michael Chandler (12-0) vs. Eddie Alvarez (24-3)
King Mo Lawal (11-2) vs. Emanuel Newton (21-7-1)
Pat Curran (19-4) vs. Daniel Straus (21-4)
Cheick Kongo (19-8) vs. Vinicius Spartan (7-3)
Preliminary Card: (Spike TV – 8 p.m. ET/5 p.m. PT)
Joe Riggs (39-14) vs. Mike Bronzoulis (15-5)
Terry Etim (15-5) vs. Patrick Cenoble (9-2)
Preliminary Card: (Spike.com – 6 p.m. ET/3 p.m. PT)
Joe Williams (10-3) vs. Jesse Juarez (20-8)
Brandon Halsey (4-0) vs. Hector Ramirez (9-5-1)
Mike Guymon (14-6-1) vs. Aaron Miller (14-8)
Joe Camacho (13-18-3) vs. Cleber Luciano (8-5)
Darren Smith (4-3) vs. Josh Smith (8-5)