Bellator 103 took place this past Friday night at the Kansas Star Arena in Mulvane, Kansas and only two of the fighters on the card received a suspension.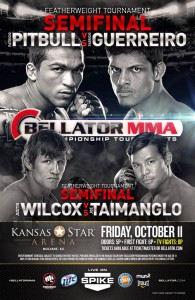 The Kansas Athletic Commission released the suspensions to TheMMAReport.com after they were requested.
The Bellator 103 main card was headlined by the season nine lightweight tournament semifinal bouts as Patricio Pitbull and Justin Wilcox advanced to the tournament final.
The only fighters receiving a suspension from the Kansas Athletic Commission were J.J. Ambrose and Matt Udhe. Ambrose was suspended 30 days for his TKO defeat and Udhe received a suspension of 60 days due to a laceration on his scalp.
Along with requesting the medical suspensions, TheMMAReport.com requested the fighter payroll and drug test information. However, the Kansas Athletic Commission does not disclose that information.
The complete Bellator 103 medical suspensions are below.
J.J. Ambrose: Suspended for 30 days for a TKO/Referee stoppage to due to strikes
Matt Udhe: Suspended for 60 days by doctor recommendation due to a laceration on his scalp