Coming up this afternoon, the UFC presents Lyoto Machida's middleweight debut against Mark Munoz at UFC Fight Night 30 in Manchester, England.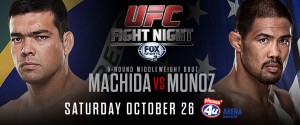 The purpose of this article is not necessarily to offer gambling advice, but more so to offer a gambling perspective of the fights.
Lyoto Machida -380 (19-4) vs. Mark Munoz +315 (13-3)
The big question is obviously how will Machida look at 185 pounds. Though I do expect a change, I don't expect a huge difference in his cardio. Machida posses a tremendous striking and footwork advantage over Munoz, whom I give a slight wrestling advantage.
For any Munoz backer, simply looking at Machida's record shows his tremendous success against wrestlers. These two have trained together in the past and know what the other does all too well. I view this fight as fairly cut and dry, Machida can win by knockout or fighting to a safe decision. As Munoz really only has the "flash knockout" as a way to win.
PLAYS: Machida is the first leg of my 3 man parlay, I also have a 1 unit play on Machida by KO +115. I feel a 5 round fight only gives Machida more time to land a knock out blow. Not to mention Munoz's rushing style is very similar to Ryan Bader's but with more ground and pound. I feel Machida will catch Munoz running in within the first 3 rounds.
Ross Pearson +115 (15-6) vs. Melvin Guillard -135 (31-12-2-1)
Ultimate Fighter winner Ross Pearson is 2-0 since returning to lightweight, both knockout victories. While Melvin Guillard has only won 2 of his last 6, I still greatly favor him in this bout. Both men are strikers and have little to no interest in the ground.
While Pearson may try to take Guillard down, in an attempt to expose his weakness in jiu jitsu, he does not possess the wrestling to threaten Guillard; whose takedown defense is far above average. Again, both men will be striking and I give a speed and power advantage to Guillard; as well as the chin advantage.
It just seems this will be forced into a kicking boxing match where I give Guillard every advantage. The only X factor to me is "fight IQ", this is something Pearson has a lot of, where Guillard only has little.
PLAYS: Guillard is the second leg of my 3 man parlay. I just don't seen anyway Pearson can win aside from a long drawn out decision. I also like Guillard by knock out at +109, as that seems his sole method of victory.
Ryan Jimmo +145 (18-2) vs. Jimi Manuwa -165 (13-0)
I feel Manuwa has had a bit of luck on his side in is UFC run, while the talented striker has show great skill, his injury prone opponents seems to come just as the tide is turning. Ryan Jimmo is a fun fighter to bet on, he fights safe and doesn't care if the fight is boring, my kind of fighter.
While Jimmo does have good strikes and power, Manuwa will have a clear advantage on the feet. Though in every other aspect, I give the advantage to Jimmo, especially cardio. My prediction, Jimmo clinches Manuwa up against the cage for 15 minutes to win a boring decision.
PLAYS: Jimmo has great value as a dog here and I can't resist playing him. I was able to catch him early at +175, he is now sitting pretty at +145, and I suggest a 1 unit play or less.
Norman Parke -155 (18-2) vs. Jon Tuck +135 (7-0)
Ultimate Fighter winner Norman Parke has a solid ground game and tight boxing, as can be said of his opponent Jon Tuck. This is another battle of two younger and talented fighters and could be a fight of the night candidate. While I do favor Tuck, I am not confident enough to make a play.
PLAYS: No bet. This fight is too close for me to put any money on it in real confidence.
Alessio Sakara -210 (19-10-1) vs. Nicholas Musoke +175 (10-2)
This is another fight that is difficult to call. UFC main stay Alessio Sakara has seemed to be past his prime as of late, but still displayed great power in his DQ loss to Patrick Cote'. Musoke is one of the few Swedish fighter to make it to the octagon, and will have a lot to prove. As Vitor Belfort would say, "it's an old lion vs. young lion", and I am going to sit back and watch this one as a fan.
PLAYS: No bet. Sakara's chin is risky business to bet on, and Musoke has yet to prove himself in a major promotion. Best leave your money at home and watch this one as a fan.
Phil Harris +315 (22-10-1) vs. John Lineker -380 (22-6)
Since he lost his UFC debut I have had high hopes for Lineker and he has far surpassed them. The Brazilian knock out artist has looked unstoppable as of late. Harris made waves on the UK scene in BAMMA and Cage Warriors before being added to the UFC's flyweight division.
While the accomplished grappler has made easy work of his country men, I don't see him posing any threat to Lineker. This match is only happening due to the low amount of talent on roster at 125, and I don't think Harris should be anywhere near Lineker at this point in his career.
PLAYS: Linker will finish off my 3 man parlay (Machida/Guillard/Lineker +178). I also like Lineker by KO +105. I know Lineker has struggled with his weight, but it doesn't worry me enough to expect it to hinder his performance at his point.
PRELIMINARY CARD:
Not many fight interest me on these prelims, a lot of "pick em" fights. I like Hettes over Whiteford but -525, coming off a loss, and a year away from the sport is too much of a risk for me. I also like Cole Miller over Ogle, but the only play I may consider is a In The Distance prop at plus money. Only 1 fight gets a play for me.
Michael Kuiper -275 (12-2) vs. Brad Scott +235 (8-2)
I have long thought of Kuiper as a little over rated by the media and fans in general. That's not saying the talented striker cant get the job done, I just think the value on Scott as a dog cant be ignored.
PLAYS: Scott straight at +235, I am only making a .5 unit play on this fight. Scott is tough and should weather the early storm, maybe even come back with a submission finish late in the fight.