Quinton 'Rampage' Jackson made an appearance on Inside MMA last night and he made it clear he still wants to fight.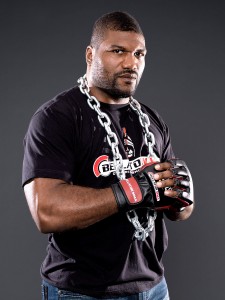 "If I'm going to keep it real, I would have said look, throw another opponent at me and still keep the pay-per-view because I've trained really hard for this. I had my knees fixed, I fixed my injury and I came back. Throw somebody in there like Kimbo Slice, Houston Alexander, anybody that's in Bellator. Somebody different like Tyrone Spong. I don't know, throw anybody in there, I'm ready for anybody. Throw in Chuck Liddell out of retirement. Put the pay-per-view on! I'm ready to go."
The interesting thing about those comments is he brought up the name Tyrone Spong, who has been very vocal on Twitter since yesterday's announcement of the PPV bout cancellation.
When asked about the Ortiz injury Rampage stated, "I texted Tito to make sure he was okay and he said he's okay and he's out for three months. That's a real serious injury, to your neck, and I hope Tito a speedy recovery"
At this point it is unclear when Rampage will hit the Bellator cage, but it is safe to say, his next opponent will not be Tito Ortiz.  Could it be Vegh, Alexander, or even Spong?
Honestly, they are all guesses at this point, but once we get word we will pass it along on TheMMAReport.com