The World Series of Fighting 6 takes place tonight from the BankUnited Center in Coral Gables, Florida and the organization will crown it's first champion.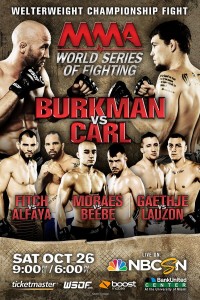 The purpose of this article is not necessarily to offer gambling advice, but more so to offer a gambling perspective of the fights.
Josh Burkman -405 (26-9) vs. Steve Carl +285 (20-3)
This is the perfect fight for the WSOF to crown their first champion. Burkman, who got his start in the UFC versus Carl, who's big break came in Bellator MMA. Both have looked better than ever before and it should be an exciting scrap. I view this fight a little differently from the books though.
Burkman is an aggressive and destructive fighter but not the most well rounded as opposed to Carl. The ground advantage has to go to Carl and his striking is far behind. When you think of Burkman as a killing machine that is just going to run through Carl, remember he is the only man besides Ben Askren to take Douglas Lima the distance in his Bellator Career.
PLAYS: I like Carl in this fight, but not enough to make a straight play just yet. If by fight time he is north of +400, a small flier play is not out of the question. In the mean time I strongly suggest playing the under two and a half rounds at +110. Both men are finishers with 33 finishes in 46 fights between them; making a finish very likely.
Jon Fitch -505 (24-6-1-1) vs. Marcelo Alfaya +335 (15-6-1)
Let the Fitch comeback and inevitable title shot begin. While Alfaya is a scary looking dude, he simply is not of Fitch's level. Going 6-1 since 2008, it's easy to say Alfaya is less active than most fighters. I see no way Fitch is stopped from doing what he does and impose his will. I expect his to come out safe and smart, possibly overly guarded, such as what we saw from Okami vs. Robertson. I will even go on to say I think Fitch will get a finish, be it ground and pound or submission it wouldn't surprise me.
PLAYS: Fitch is solid parlay fodder, I know I said I think he will finish but I'm not confident enough to play the under.
Marlon Moraes -350 (11-4-1) vs. Carson Beebe +250 (14-2)
The younger brother of Chase Beebe, Carson Beebe had an impressive debut vs. Joe Murphy at WSOF 3. Primarily a grappler, his style is based around working for a takedown and maintain top control. While he has strikes and submissions I doubt they will be very effective against the WSOF's best bantamweight.
Moraes has it all, he can strike, he can wrestle, and he has a BJJ brown belt. Many have ranked him along side Bellator bantamweight champion Eduardo Dantas as the next wave of young up and coming talent that will own the division in the future. If Beebe has a perfect fight, he can out wrestle and maintain top control top for 3 rounds. Aside from this, I don't see him posing much of a threat.
PLAYS: Adding Moraes to my parlay with Fitch and one more fighter. A finish or a decision won't surprise me so I have no additional interest in this fight.
Dan Lauzon +225 (17-4) vs. Justin Gaethje -305 (9-0)
This is a bout between to young but experienced fighters. Gaethje boasts a perfect 7-0 amateur and 9-0 professional record; and is in my opinion ranked as the number 1 lightweight in the WSOF.
On the other hand, the younger brother of Joe Lauzon, Dan, is no slouch. Since his second stint in the UFC, his is riding a five fight win streak. Both men are finishers, I give a power striking advantage to Gaethje, but I still see big holes in his ground game. His talent is unquestionable, but he tends to get a little sloppy if the fight goes late. In my opinion, this is a pick 'em fight.
PLAYS: No bet. This fight is too close for me to lay money on it. I am fully expecting a finish from Gaethje, but there are too many what if's for me to play.
PRELIMINARY CARD:
This is actually the most stacked card WSOF has ever put on, and the prelims deliver. Fighters scheduled include former Bellator powerhouse Alexis Vila and former WEC bantamweight champion Miguel Torres. I have stated many times I felt this card was going to be all chalk, but only one fight on the prelims gets a play.
Jacob Volkmann -275 (16-4) vs. Luiz Firmino +225 (16-6)
Submission specialist and PRIDE veteran Luiz Firmino has proven to be a tough fight for anyone, only being finished once in his 13 year career. For most jiu jitsu fighters, Jacob Volkmann's style of all takedowns no nonsense is more than welcome. I don't see it this way, Firmino is no Paul Sass off his back, I also see him getting tired fast if he can't get back up. Vis Versa, I don't see Volkmann finishing Firmino. My prediction, three rounds of Volkmann on top of Firmino.
PLAYS: Volkmann closes out my WSOF 6 parlay (Fitch/Moraes/Volkmann +110)