A featherweight bout has been added to the preliminary card of Bellator 106 as Mike Richman will meet Akop Stepanyan.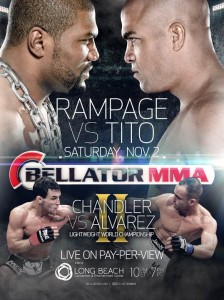 Bellator MMA officials announced the fight booking today and the bout will be apart of the preliminary card on Spike TV.
Bellator 106 will take place from the Long Beach Convention Center on November 2nd and will be headlined by Quinton "Rampage" Jackson meeting Tito Ortiz in a light heavyweight bout.
Richman (15-3) is a two time featherweight tournament participant as he was a semifinalist during season seven and was defeated by Frodo Khasbulaev in the final of the season eight tournament. Three of his four wins in Bellator have come by TKO/KO and all of those wins came in the first round.
"I'm really honored to be part of Bellator's first PPV," Richman said. "It really means a lot to me to be featured on this card. I always look to put on exciting fights, but I feel like I have a duty to Bellator and myself to really put on a show to get people excited to buy this PPV and see an amazing night of fights. Akop is a tough guy and fought some solid talent, but I'll be collecting another victory on November 2nd."
Stepanyan (13-6) was recently eliminated from the season nine featherweight tournament as he was submitted by Justin Wilcox in the opening round. Since coming to Bellator, he has lost three of four fights with all of the defeats coming in featherweight tournament bouts.
The current Bellator 106: Rampage vs. Tito card is below.
Main Card: (PPV – 10 p.m. ET/7 p.m. PT)
Rampage Jackson (32-11) vs. Tito Ortiz (16-11-1)
Michael Chandler (12-0) vs. Eddie Alvarez (24-3)
King Mo Lawal (11-2) vs. Emanuel Newton (21-7-1)
Pat Curran (19-4) vs. Daniel Straus (21-4)
Cheick Kongo (19-8) vs. Vinicius Spartan (7-3)
Preliminary Card: (Spike TV – 8 p.m. ET/5 p.m. PT)
Joe Riggs (39-14) vs. Mike Bronzoulis (15-5)
Terry Etim (15-5) vs. Patrick Cenoble (9-2)
Mike Richman (15-3) vs. Akop Stepanyan (13-6)
Preliminary Card: (Spike.com – 6 p.m. ET/3 p.m. PT)
Joe Williams (10-3) vs. Jesse Juarez (20-8)
Brandon Halsey (4-0) vs. Hector Ramirez (9-5-1)
Mike Guymon (14-6-1) vs. Aaron Miller (14-8)
Joe Camacho (13-18-3) vs. Cleber Luciano (8-5)
Darren Smith (4-3) vs. Josh Smith (8-5)