The UFC will be returning to Las Vegas for UFC 167 on November 16th at the MGM Grand Garden Arena and the event will be headlined by Georges St-Pierre defending the UFC welterweight title against Johny Hendricks.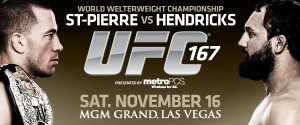 Along with the title fight, the main card on pay-per-view will feature Chael Sonnen vs. Rashad Evans, Rory MacDonald vs. Robbie Lawler, Josh Koscheck vs. Tyron Woodley, and Ali Bagautinov vs. Tim Elliott.
The UFC 167: St-Pierre vs. Hendricks Video preview and fight card are below.
Main Card: (PPV – 10 p.m. ET/7 p.m. PT)
Georges St-Pierre (24-2) vs. Johny Hendricks (15-1)
Chael Sonnen (29-13-1) vs. Rashad Evans (18-3-1)
Rory MacDonald (15-1) vs. Robbie Lawler (21-9, 1NC)
Josh Koscheck (17-7) vs. Tyron Woodley (11-2)
Ali Bagautinov (11-2) vs. Tim Elliott (10-3-1)
Preliminary Card: (Fox Sports 1 – 8 p.m. ET/5 p.m. PT)
Donald Cerrone (20-6, 1NC) vs. Evan Dunham (14-4)
Ed Herman (21-9, 1NC) vs. Thales Leites (21-4)
Rick Story (15-7) vs. Brian Ebersole (50-15-1)
Erik Perez (13-5) vs. Edwin Figueroa (9-3)
Preliminary Card: (Facebook – 6:30 p.m. ET/3:30 p.m. PT)
Jason High (17-4) vs. Anthony Lapsley (22-5, 2NC)
Sergio Pettis (9-0) vs. Vaughan Lee (13-9-1)
Robert Drysdale (6-0) vs. Cody Donovan (8-3)