An undisclosed injury has forced Andreas Sprang to pull out of his Bellator 105 fight on Friday night against Eugene Fadiora, and replacing him in the bout will be Keith Berry.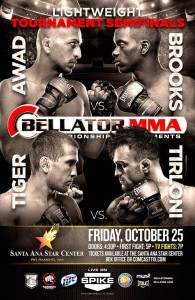 Bellator MMA confirmed the change to TheMMAReport.com on Tuesday and the new bout will be apart of the four fight main card on Spike TV.
Bellator 105 will come from the Santa Ana Star Center in Rio Rancho, New Mexico on Friday night and will be headlined by the season nine lightweight tournament semifinals.
Berry (15-11) made his Bellator debut earlier this year and won his first two fights in the organization. He will enter this fight following a defeat to Jeremy Kimball at Bellator 97 and that defeat snapped a four fight winning streak.
Fadiora (12-1) is one of several British fighters signed by Bellator MMA recently and eleven of his twelve victories have come by stoppage. He is currently on a three fight winning streak, and all of those wins have come by submission in the first round.
The current Bellator 105 fight card is below.
Main Card: (Spike TV – 9 p.m. ET/6 p.m. PT)
Will Brooks (11-1) vs. Saad Awad (15-5) *
Ricardo Tirloni (16-4) vs. Tiger Sarnavskiy (24-1) *
Mighty Mo (4-2) vs. Ron Sparks (8-2)
Keith Berry (15-11) vs. Eugene Fadiora (12-1)
Preliminary Card: (Spike.com – 7 p.m. ET/4 p.m. PT)
Desmond Green (9-2) vs. Angelo Sanchez (12-3)
Joseph Bryant (4-2) vs. Raphael Butler (6-0)
Volkan Oezdemir (9-0) vs. Josh Lanier (3-7)
Luis Nogueira (15-3-1) vs. Frank Baca (16-3)
Jesse Brock (14-7) vs. Adrian Cruz (5-0)
Eddie Larrea (17-23) vs. Rocky Ramirez (4-4-1)
Steve Garcia (1-0) vs. Shawn Bunch (2-0)
* – Lightweight Tournament Semifinal