After a weekend of non stop MMA, Bellator 106 has this go around all to itself. Originally scheduled as the PPV clash between Rampage Jackson and Tito Ortiz; the spot light now shines on lightweight title fight and rematch of the year, Michael Chandler vs. Eddie Alvarez.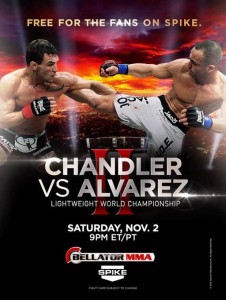 After news broke about Ortiz' neck fracture, Bellator CEO Bjorn Rebney, announced the entire card would be free on Spike TV. This came as a welcome surprise to Bellator fans as it is unquestionable the "most stacked" card Bellator has ever done.
Boasting three title fights, the Fight Master finale, and a featherweight scrap that has hardcore fans reeling; Bellator 106 is set to be the biggest night in the young promotions history. This article is not intended as gambling advice, but more so a gambling perspective on the fights.
Michael Chandler -250 (12-0) vs. Eddie Alvarez +220 (24-3)
Neck and neck with the Chris Weidman and Anderson Silva as the most anticipated rematch of the year, this is by the opinion of many, the biggest fight in Bellator's history. Though the first fight was a treat of non stop fireworks, I have a feeling this one will be much more reserved. There is much more at stake for both fighters here, and a deeper knowledge of what their opponent is capable of.
Striking:
Alvarez is a talented boxer, when it comes to hand speed and footwork, I give him a clear advantage. On the other hand, in his short career Chandler has developed into quite the boxer himself. I give Chandler a power advantage, as well as a major edge in the chin department (Alvarez gets dropped in every fight he is in). Though Alvarez has a deeper arsenal of kicks (especially head kicks), Chandler has some powerful body and leg kicks as well; that he uses flawlessly to set up his punches and takedowns.
Wrestling:
The wrestling is even for me, Chandler's Division I wrestling pedigree makes him an offensive wrestling machine. While Alvarez doesn't have Chandler's wrestling credentials, he is no slouch here. In fact his defensive wrestling is some of the best in MMA today. Given their styles I have the wrestling even, I imagine it much like their first fight; with Chandler doing the majority of the takedown shooting and Alvarez defending or getting back to his feet shortly after.
Submissions:
The first fight was decided by a rear naked choke submission in Chandler's favor, but let's not forget that the bomb landed by Chandler before it should really get the credit. Submissions are even for me, both guys are excellent offensively and defensively. Don't forget Alvarez' first four Bellator victories came by way of submission, and Chandler can boast submission victories over Marcin Held, Rick Hawn, and Alvarez himself; a very impressive list indeed.
When it comes right down to it, this is a battle between two of the top 5 lightweights in the world, and is anyone's fight. No result would shock me but looking at it analytically, Alvarez has the cards stacked against him. He has not fought in 13 months and spent the majority of that time locked in legal battles with Bellator.
Following Alvarez on twitter, I can say he is focused and motivated. Though I don't know what good it will do him against, in my opinion, the number 1 lightweight in the world. Chandler has momentum on his side, he has fought very recently and took no damage in the fight.
This is a rematch of my favorite fight, that I never thought would happen. Needless to say I'm excited to see it, and like I said no outcome surprises me.
Bets:
The bottom line is, I would bet on Chandler vs. any lightweight in the world much less Eddie Alvarez. -260 is higher than I had expected but not surprising at all. It is an excellent number for parlay fodder; which I will use to start a 3 man parlay. There is also an In The Distance prop at +100 on Chandler, I put half a unit on it, as Chandler is very aggressive and likely to finish again.
Pat Curran -370 (19-4) vs. Daniel Straus +310 (21-4)
Pat Curran and Daniel Straus met early on in their professional career at XFO 29, back in April of 2009. While Straus was able to maintain a dominate clinch against the cage in the first round, Curran came back with a vicious knock out victory in the second. If you look up this fight on YouTube, it's a fun watch for any MMA fan; but you can stop right there if you're comparing the two fighters on the screen to the warriors fighting on Saturday night. Both men have matured and evolved drastically since their first encounter.
Striking:
Curran is everything I love about a technical striker; hands up, elbows in, constant movement (I couldn't tell you the number of times I've pleaded with fighters on my television screen to keep their hands up). Curran is a fighter with vicious knock out power and knows when to use it.
This at times can lead to him being a slow starting and hesitating to get off strikes. The positive factor in this, is an utter lack of over extending himself and thus getting in harms way. Also being a master of the eight limbs, Curran threatens knock out power with anything he hits you with, right or left side.
Then we have Straus, who despite his wrestling base is a competent striker in his own right. He possesses a stiff jab and a decent head kick, but not much else that poses a serious threat on the feet. While Straus has the tools, you can quote me in saying he is…"ineffective" at best. Straus will only be using strikes to set up his takedown, meaning if Curran can keep at range, it will be his fight to win.
Wrestling:
Curran has show to be an excellent defensive and at times offensive wrestler, but it is no mystery in a straight wrestling match Straus would most likely dominate. Though he never wrestled in college, many educated wrestling analysts consider him one of the very best wrestlers to come out of Ohio and never win a state championship.
Clearly what Straus didn't like about school, he loved about wrestling; as it shows in his handy work in the cage. From the clinch to the takedown, the last thing you want is for Straus to get a hold of you. He is excellent at maintaining top position, delivering hard ground n' pound, and grinding his way to a decision. I fully expect Straus to get at least one takedown in this fight if he doesn't get knocked out early. I also expect Curran to be able to get back to his feet, permitting the clock doesn't run out.
Submissions:
While Straus has submissions to his credit, he hardly ever goes out of his way to get them. This is what I call high fighter IQ; Randy Couture made a career out of preferring position over submission. The clear advantage goes to Curran with his Brazilian jiu jitsu obtained from his cousin and trainer, Jeff Curran.
Showing his master of strategy in his last outing vs. Shambulat Shamhalaev; Curran pulled guard on his opponent with a guillotine locked in, rather than strike with the dangerous Russian as he may have done vs. another contender. Unless Curran lands a big bomb before locking in a choke, I don't see his submissions being much of a threat to Straus for the most part. If Curran is smart (and he is), he has trained extensively off his back for this fight, and may have some new tricks to show off.
Bets:
Curran is the obvious pick in this case. While Straus will dictate where the fight takes place, Curran is the only one with weapons to end it on the feet or the ground. Curran is a slow starter, but 5 rounds is a long time to work. While both fighters have evolved, Curran has made the biggest improvements to his game.
In my opinion, Straus is the number 3 featherweight in Bellator. I even feel he would be very successful in the UFC ranks; but Curran is simply a bad match up for him (as almost anyone would be). -370 is not a bad price on Curran at all, at little high, but I'll take it as the second leg of my 3 man parlay (Chandler/Curran/X).
I'm very disappointed to not as a KO prop in this fight most of all. The in the distance is currently sitting at -160, which I have no interest in as I made a play on the under 4.5 rounds at -150 when the lines opened.
King Mo -430 (11-2-1) vs. Emanuel Newton +345 (21-7-1)
I'll be the first to admit I didn't give Newton a chance in the first fight, and boy was I wrong. One thing that most people seem to forget about that fight, is that Newton was winning the striking exchanges.
Of course it was only a 2:35 fight, so much is still left to the imagination. The big factor being, Mo's wrestling, as the first fight didn't have as much as a takedown attempt. When Mo opened as another large favorite (not as bad as his 12-1 in their first fight) I was a little surprised, but of course the heavy money would come in late on Mo, so it's an understandable circumstance.
Striking:
Based on the little I have seen between them, I have to give the striking advantage to Newton. He was winning the fight and knocked Mo out. Mo may have been working on his boxing with Jeff Mayweather, but I still don't have enough faith in him vs. someone with decent striking.
This is not to say that I don't give Mo a distinct "1 shot KO" advantage. Newton will be the larger fighter, but Mo will be packing a little more bang in his strikes. Another factor is the diversity of Newton's attacks (this clearly being what won him the first fight), being an active thrower of spinning kicks and punches.
Wrestling:
Mo is a University of Central Oklahoma standout and NCAA Division II national champion, it's safe to say he will have a slight advantage in the wrestling. Now don't get me wrong, Newton has drastically improved some holes in his wrestling since his days as MFC light heavyweight champion; but I just don't think it will be enough.
Mo has a lot on the line here and I believe he will leave as little to chance as possible. I see him trying for the takedown as early as he can. Being the possessor of the strongest ground and pound in MMA (in my opinion of course), Mo is one of a very select few who can end a fight with one punch from within full guard. The wrestling is by far the most deciding factor to me.
Submissions:
The simple fact that Mo never attempts submissions gives the advantage to Newton. An important fact one should note, while Newton has 8 submission wins to his record, 6 of them are rear naked chokes. Meaning they are from a dominate position, not from defending within his guard (where he is likely to spend the majority of this fight). The other important fact is that Mo has never been submitted or even really been threatened with such.
Bets:
When you really look at the stats, it's Mo's fight to win. As long as he comes in with a no nonsense attitude, I see no reason he can't get the W. This makes him the 3rd and final leg of my 3 man parlay (Chandler/Curran/Mo +117).
Joe Riggs -205 (39-14-1) vs. Mike Bronzoulis +173 (15-5-1)
I have to say, Fight Master was a very enjoyable experience for me. I greatly preferred it's format over it's predecessor, The Ultimate Fighter. With half the house drama, 2 fights per episode, and fighters picking their own camps of varying MMA super heroes…what is not to love?
Riggs and Bronzoulis both won their four fights in the Fight Master compound to get to this final. One could argue Bronzoulis had a more difficult road, as Riggs used his number 1 seed to pick off weaker opponents, till finally upsetting then number 1 seed, Cole Williams, to earn his spot. On the other hand, Bronzoulis was a constant underdog on the show; upsetting powerhouses Jason Norwood, Chris Lozano, and Eric Bradley.
Striking:
I give a striking advantage to Bronzoulis, solely based on Riggs chin. Not that it is any fault of his own, but that chin has a lot of miles on it. Both men are diverse strikers, though I give the more technical approach to Bronzoulis; with his karate and kickboxing background. I also give a power advantage to Bronzoulis, though Riggs does have power, the fact Bronzoulis has never been knocked out leads me to think it's not going to happen here.
Wrestling:
Neither man is an overly accomplished wrestler here, but Riggs is clearly the better of the two. Riggs has excellent leg trips off the cage and hip tosses from the clinch. Maintaining top position or getting off his back should be no problem for Riggs, especially vs. Bronzoulis. The only disadvantage for Riggs here is that Bronzoulis knows Riggs is better. He knows Riggs will be looking for the takedown and will be ready for it. I see him circling, trying to keep off the cage, waiting for Riggs to rush in.
Submissions:
It should be more than obvious after a little research that Riggs will have the submission advantage. Riggs has an understanding of pretty much every submission in the book and you really don't want him getting a hold of any of your limbs. Though I do think Riggs will get the takedown and hold top control, I'm not entirely sold on him being able to submit Bronzoulis. If he does, I think it will be in the first 2 rounds, as Riggs tends to slow greater as the fight progresses.
Bets:
I like Riggs in this fight, but not enough to put him in a parlay, even at -205.
Akop Stepanyan -165 (13-6) vs. Mike Richman +145 (15-3)
I was thrilled to see Stepanyan on the card, for fear he would be cut after going 1-3 in the promotion. The talented striker is a real treat to watch when he hits his stride, they don't call him "the Sniper" for nothing. A Rus Fighters Sport Club member, Stepanyan walks among the ranks of Alexander Shlemenko, Andre Koreshkov, and Tiger Sarnavskiy. He will have a tall order in front of him in the Season 8 featherweight tournament finalist Mike Richman; who will be looking for another shot at a Bellator tournament with a win here.
Striking:
I predict this fight to be 100% on the feet; while Richman must be aware Stepanyan has struggled with submissions in the past, I doubt he will capitalize. Training at The Academy in Minnesota, Richman lives in a den of wrestlers. I'm sure if he wanted, he could take Stepanyan down and work for submissions…but I doubt it. He promised a stand up war at the weigh ins and I believe him. Richman has the more traditional kickboxing stance. He is much more technical, throwing powerful punches from odd angles and is well know for his head kick knock outs.
Where Stepanyan is more know for his unorthodox and entertaining striking style; throwing spinning and round house kicks. Preferring to stay on the outside and pick is opponent apart, Stepanyan has become a master at distance management. With that and his superior foot work, I give him a slight advantage going in. It also doesn't hurt he has never been knocked out. When it all comes down to, the only one guaranteed to win in this fight on November 2nd are the fans.
Bets:
I like Stepanyan in this bout, but not enough to make a straight play. I know Mike Richman has many fans due to his military background and will be curious to see where the late money comes in. Should Stepanyan reach a decent line by fight time, I may change my mind.
Bets:
(Chandler/Curran/Mo +117).
Chandler ITD +100