The World Series of Fighting 7 Weigh-Ins took place on Friday afternoon in Vancouver and the fight card is now official with nine fights.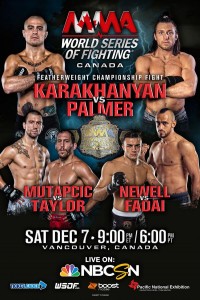 Today's weigh-ins took place at Persona's in Grand Villa Casino and tomorrow nights card will come from the PNE Agrodome.
The fight card will be headlined by a title fight as Georgi Karakhanyan (144.7 lbs) meets Lance Palmer (144.6 lbs) for the inaugural WSOF featherweight title.
Also, the second semifinal bout in the middleweight tournament will take place in the co-main event as Elvis Mutapcic (185.6 lbs) faces Jesse Taylor (185.7 lbs). The winner of the bout will advance to the final and meet David Branch for the inaugural middleweight title in 2014.
The complete WSOF 7: Karakhanyan vs. Palmer weigh-in results are below.
Main Card: (NBCSN – 9 p.m. ET/6 p.m. PT)
Georgi Karakhanyan (144.7) vs. Lance Palmer (144.6)
Elvis Mutapcic (185.6) vs. Jesse Taylor (185.7)
Nick Newell (155.8) vs. Sabah Fadai (155)
Kalib Starnes (205) vs. Dwayne Lewis (205)
Preliminary Card: (WSOF.com – 6 p.m. ET/3 p.m. PT)
Michael Hill (169.2) vs. Richard Arsenault (169.8)
Matt Baker (185.8) vs. David Perron (185.8)
Shawn Albrecht (155.6) vs. Gabriel Solorio (154.8)
Dan Ring (155.5) vs. Myles Merola (155.7)
Micah Brakefield (185.4) vs. Brendan Kornberger (184.5)