After being reported for the past week, the UFC has officially announced that UFC Fight Night 38 will take place on March 23rd at Ginasio Nelio Dias in Natal, Brazil.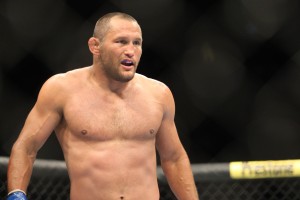 The fight card will air live on Fox Sports 1 and will be headlined by a rematch as Mauricio "Shogun" Rua meets Dan Henderson.
Their first meeting took place in 2011 at UFC 139 with Henderson winning by unanimous decision.
Rua (22-8) is coming off a knockout of the night victory at UFC Fight Night 33 against James Te Huna in December and the victory snapped a two fight losing streak. It was his first win since UFC on FOX 4 in August of 2011 as he defeated Brandon Vera by TKO in the fourth round.
Henderson (29-11) has signed a new deal with the UFC and he is currently on a three fight losing streak. His last win came against Rua and his defeats during his losing streak have come against Lyoto Machida, Rashad Evans, and Vitor Belfort.
The UFC will be officially announcing more fights and tickets details for this event in the coming weeks.