World Series of Fighting 8 took place on Saturday night at Hard Rock Live inside the Seminole Hard Rock Hotel and Casino in Hollywood, Florida and co-main event fighter Anthony Johnson topped the $264,000 payroll.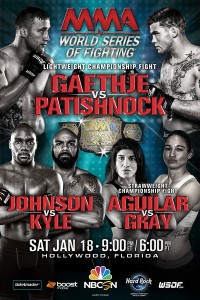 The Florida Boxing Commission released the salaries on Thursday and were sent to TheMMAReport.com after they were requested.
Johnson topped the payroll with a salary of $75,000 and the other top earners were lightweight champion Justin Gaethje and women's strawweight champion Jessica Aguilar, who both made $30,000
The complete World Series of Fighting 8 salaries are below and does not include any fees such as insurance, licenses and taxes.
Justin Gaethje: $30,000 (includes $15,000 win bonus)
Rich Patishnock: $6,000
Anthony Johnson: $75,000 (includes $35,000 win bonus)
Mike Kyle: $10,000
Jessica Aguilar: $30,000 (includes $15,000 win bonus)
Alida Gray: $5,000
Cody Bollinger: $20,000 (includes $10,000 win bonus)
Tyson Nam: $6,000
Luis Palomino: $14,000 (includes $7,000 win bonus)
Jorge Patino: $8,000
Tyler Stinson: $10,000 (includes $5,000 win bonus)
Valdir Araujo: $10,000
Derrick Mehman: $10,000 (includes $5,000 win bonus)
Scott Barrett: $5,000
Alexis Vila: $7,000 (includes $4,000 win bonus)
Sidemar Honorio: $2,000
Freddy Assuncao: $6,000 (includes $3,000 win bonus)
Brenson Hansen: $6,000
Anderson Melo: $2,000 (includes $1,000 win bonus)
Jose Caceres: $2,000