Resurrection Fighting Alliance 12 will take place tomorrow in Los Angeles, California and the main card will feature title fights in the featherweight and bantamweight divisions.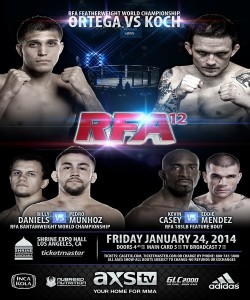 The fight card will come from the Shrine Auditorium and the main card will be shown live on AXS TV beginning at 10 p.m. ET/7 p.m. PT.
The card will be headlined by a Brian Ortega (7-0) facing Keoni Koch (5-0) for the vacant RFA featherweight title and in the co-main event, Pedro Munhoz (9-0) defends the RFA bantamweight title against Billy Daniels (7-0).
The Resurrection Fighting Alliance 12 video preview and full fight card lineup is below.
Main Card: (AXS TV – 10 p.m. ET/7 p.m. PT)
Brian Ortega (7-0) vs. Keoni Koch (5-0) – Featherweight Title Bout
Pedro Munhoz (9-0) vs. Billy Daniels (7-0) – Bantamweight Title Bout
Kevin Casey (6-3) vs. Eddie Mendez (7-2-1)
Justine Kish (3-0) vs. Randa Markos Thomas (3-0)
James Moontasri (5-1) vs. Rick Reger (6-0)
Marcus Kowal (3-1-1) vs. Zac Chavez (2-0)
Preliminary Card: (Unaired)
Perceu Friza (2-0) vs. Boston Salmon (0-0)
Jordan Isordia (2-1) vs. Dmitry Gerasimov (2-0)
Jon Hackleman Jr. (1-0) vs. Howard LaCroix (0-1)
Cameron Diffley (3-0) vs. Jeff Roman (0-0-1)