Bellator middleweight champion Alexander Shlemenko issued a challenge to Tito Ortiz last week for the inaugural Bellator pay-per-view and the fight is now official for the May 17th card.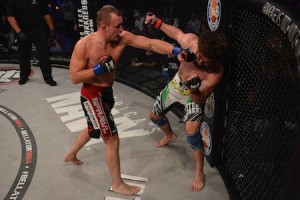 The fight booking was officially announced by Bellator on Friday afternoon and they will fight at light heavyweight.
Bellator 120 will come from the Landers Center in Southaven, Mississippi and will be headlined by Eddie Alvarez defending the Bellator lightweight title against Michael Chandler.
"Shlemenko's one of MMA's greatest champions, he's riding a 13 fight win streak and he's got an incredible level of confidence he can beat anyone in the world. When I saw the immediate fan response following the callout, I knew this was a fight I wanted to make provided we received commission approval," Bellator Chairman & CEO Bjorn Rebney said. "Of the thousands of opinions that came out when this was announced, half think Alexander destroys him and half think Tito does the same. This will be a great fight."
Shlemenko (50-7) is coming off a submission victory at Bellator 114 and it was his eighth straight win to take place in Bellator. He currently holds the record for most wins in Bellator (12) and has only lost once inside the Bellator cage.
"Tito Ortiz says he is healthy and he wants to fight. So now he has a fight. Me," Shlemenko said. "I will fight Tito, and I will beat him. I have a great respect for Tito Ortiz, but I have wanted to fight Tito for a long time, and this is my chance. I am moving up to light heavyweight for this fight, and I will win. When I am done with Tito, I will continue to defend my middleweight belt in Bellator."
Ortiz (16-11-1) was recently cleared by doctors to take a fight after an injury kept him out of his Bellator debut last year. He is currently on a three fight losing streak and is 1-6-1 in his last eight fights.
"This fight really came out of nowhere and it took me by surprise, but it took me about three seconds to accept the fight," Ortiz said. "I'm healthy, I feel great, and I'm ready to do this. I knew I wasn't going to get any easy fights in Bellator, it's never what I wanted, and they delivered with a great fight for May 17th. Shlemenko is a tough guy, he's the Middleweight Champion, but he's fighting at my weight class, the weight class where I have beaten some of the best in the world, and it's going to be a very bad night for him."
The current Bellator 120: Alvarez vs. Chandler III card is below.
Eddie Alvarez (25-3) vs. Michael Chandler (12-1)
Quinton Jackson (34-11) vs. Muhammed Lawal (12-3, 1NC)
Alexander Shlemenko (50-7) vs. Tito Ortiz (16-11-1)
Will Brooks (13-1) vs. Nate Jolly (13-5)