Get caught up with everything that happened in the last forty-eight hours with today's edition of The Daily MMA Review with a recap of the latest episode of The Ultimate Fighters, news on Gray Maynard's next fight, an injury to Bellator's featherweight champion and much more.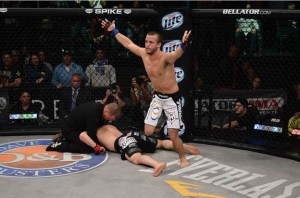 TUF 19 Recap
This week's episode of The Ultimate Fighter featured a middleweight quarterfinal between Team Edgar's first pick Ian Stephens and Team Penn's last pick Roger Zapata.
At the TUF house, Stephens tells his fellow teammates about how his father passed away when Stephens was just six. His dad, an owner of air conditioning company, was electrocuted to death while on the job. Stephens would go on to reflect upon how living without a father for the majority of his life has helped cultivate the fire inside of him.
Later on in the Team Edgar training session, Stephens would work on getting the opponent's back.
Focus of the episode shifted to Roger Zapata, who sacrificed spending quality time with his newborn daughter to compete on the show. His child changed his fight mantra from "fight to the death" to "fight to live".
Former UFC Welterweight Champion Matt Hughes made a surprise visit at a Team Penn training session, giving Penn's trainees some tips on takedowns and the mental aspect of MMA.
The middleweight fight took place next without any weigh-in, and it concluded with a lot of controversy. Each of the three rounds played out with Ian Stephens dominating the fight from a grappling and positional standpoint, but doing nothing in the way of offense as it regards to striking. On the other-hand, Roger Zapata was active at all time with elbows, punches and knees in spite of being in an inferior position.
The controversy came in the sudden-death round. Referee Steve Mazzagatti deducted a point from Zapata for landing an illegal 12-6 elbow to the back of Stephen's bloody skull (Mazzagatti warned Zapata about the illegal maneuver in the first frame). Despite having a point taken away in what was essentially a one-round fight, Roger Zapata won the judges' decision.
Needless to say, the fighters on both teams alongside Dana White, who left the fight after the point deduction because he felt Mazzagatti made a bad call, were irate about the decision. It just made no sense to the fighters, coaches and Dana White that Roger Zapata could win the decision after having a point taken away.
After cooling down the situation by sending the fighters to their respective lockers, Dana White found out that one judge scored the third frame 10-8 Stephens and the other two had it a 9-9 draw. Because of the majority draw, the judges were then each asked who won the fight to determine the winner, and they chose Zapata.
The show concluded with BJ Penn selecting the next light heavyweight fight which pits Team Penn's Anton Berzin and Team Edgar's Patrick Walsh.
The News
1. The date for veteran UFC lightweight Gray Maynard's (11-3-1, 1 NC) next fight was announced on Tuesday. Maynard is slated to take on Fabricio Camoes (14-8) on the UFC 176 card, which will take place on August 2nd in Los Angeles.
2. Patricio Freire will have to wait a little longer to contend for the Bellator featherweight championship. His initial June 6th date with Pat Curran has been scratched after Bellator announced on Wednesday that Curran suffered a severe right calf strain.
3. With the first season of TUF Latin America set to debut in August, the cast for the upcoming reality show was released.
Team Velasquez is composed entirely of Mexican fights with four bantamweights – Marco Beltran (5-2), Henry Briones (13-4), Alejandro Dominguez (22-6) and Jose Quinonez (10-1) – and four featherweights – Gabriel Benitez (16-4), Masio Fullen (6-4), Yair Rodriguez (2-1) and Rodolfo Rubio (12-6).
Team Werdum will feature four bantamweights – Guido Cannetti (5-1, Argentina), Fredy Serrano (1-0, Colombia), Bentley Syler (5-0, Bolivia) and Marlon Vera (5-1, Ecuador) – and four featherweights – Humberto Brown (4-4, Panama), Leonardo Morales (4-0, Nicaragua), Diego Rivas (5-0, Chile) and Alex Torres (1-1, Colombia).
4. Cody Gibson (11-4) will step in for Rani Yahya to face Johnny Bedford (19-10, 1 NC) in a featherweight bout at UFC Fight Night 44.
5. Per Nielsen sources, the 8 p.m. hour for the Bellator 120 preliminary card averaged 648,000 viewers and 9 p.m. hour for the card averaged 776,000.
6. The MMA Report confirmed with Mississippi Athletic Commission Chairman Jon Lewis that drug testing did take place at Bellator 120, but the test results will not be released per state legislature.