Nineteen fighters have been released from their Bellator contracts, including former heavyweight tournament winner Eric Prindle and 2014 Summer Series Light Heavyweight Tournament quarter-finalist Carlos Eduardo.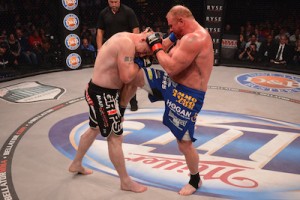 The releases were posted on the Sherdog Forums today, and Bellator confirmed the moves to TheMMAReport.com shortly after they were posted on the forum.
In addition, Bellator confirmed that all of these moves were made before the recent changes in management at the promotion.
The complete list of the fighters that were recently released by Bellator is below.
Frank Baca
Keith Berry
Nathan Coy
Isaac DeJesus
Jared Downing
Carlos Eduardo
Jason Fischer
Sergej Grecicho
Trey Houston
Jeremy Kimball
Nick Kirk
Anthony Lemon
Anthony Leone
Rodrigo Lima
Travis Marx
Hiroshi Nakamura
Eric Prindle
Eric Smith
Tim Welch
Note: The original story stated that David Gomez and Adam Parkes were released, but a Bellator official told TheMMAReport.com on late Tuesday evening that both of them are still under contract with the promotion.