Bubba Jenkins is dropping down to the featherweight division and he will make his Bellator featherweight debut against Poppies Martinez at Bellator 122 on July 25th.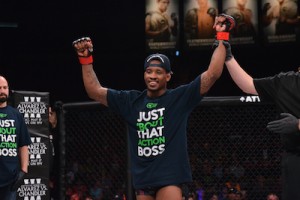 The fight booking was recently added to the fight card and a Bellator official confirmed to TheMMAReport.com that the fight would be at featherweight.
Bellator 122 will come from the Pechanga Resort and Casino in Temecula, California and will be headlined by the middleweight tournament final between Brett Cooper and Brandon Halsey.
Jenkins (6-1) signed with Bellator last year and won his debut with a TKO in the second round against Mike Barreras at Bellator 97. He would suffer his first career defeat two months later when he was defeated by LaRue Burley. Since that fight, he has won two straight and his most recent win came in March against Sean Powers at Bellator 114.
Martinez (29-9, 1NC) returned to Bellator earlier this year and defeated Josh Smith by submission in the first round at Bellator 116. It was his second straight victory and both of those wins have come by submission. In his career, eighteen of his wins have come by submission and his last six fights have ended in the first round.
The current Bellator 122: Cooper vs. Halsey fight card is below.
Main Card: (Spike TV – 9 p.m. ET/6 p.m. PT)
Brett Cooper (20-9) vs. Brandon Halsey (6-0) *
Andrey Koreshkov (16-1) vs. Adam McDonough (11-0) **
Preliminary Card: (Spike.com – 7 p.m. ET/4 p.m. PT)
Stephen Martinez (10-2) vs. Sergio Rios (7-0)
Dmitriy Sosnovskiy (8-0) vs. Manny Lara (4-4)
Joe Duarte (10-3) vs. Saad Awad (15-6)
Fernando Gonzalez (20-12) vs. Karl Amoussou (17-6)
Bubba Jenkins (6-1) vs. Poppies Martinez (29-9, 1NC)
* – Middleweight Tournament Final
** – Welterweight Tournament Final